Which Insurance company provides the best comprehensive car insurance in Nigeria? Let's find out.
The top Insurance companies in Nigeria hardly ever segment themselves into either one type of Insurance cover.
They just do all of them. It may sound not so nice, but that's good for you.
You wouldn't want to have your car insurance in company A. Then, have your house insurance with company B. And then, your health insurance with company Z except you just like stress. However, there are things to look out for in a car insurance company, regardless of if you have them in your health or business plan before.
List of Car/Vehicle Insurance Companies in Nigeria
1.

AXA Mansard Car Insurance
AXA Mansard provides different packages of motor insurance. Their plans include:
AutoFlex: This is a customizable and flexible motor policy that they provide to help clients make big savings on their motor insurance premiums
Auto Plus: This insurance plan covers for flood and other extras. It includes
AutoGo: With this plan, you can buy your Third Party motor insurance and get your certificate instantly.
The three different car insurance plans cover third-party property damage, third-party bodily injury, theft, fire damage to the insured vehicle, accidental damage, free vehicle tracker, and so on. Click to learn more about AXA Mansard Car Insurance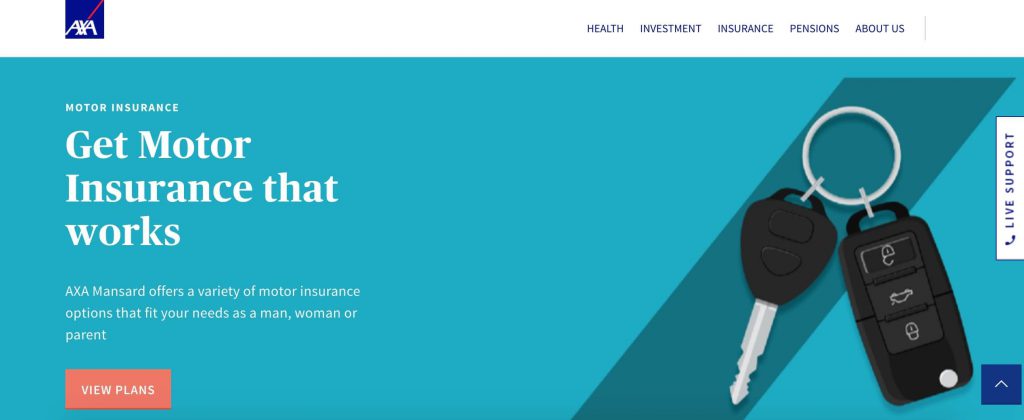 2.

AIICO Car Insurance
AIICO Insurance covers different types of automobiles – for private and commercial uses. Their vehicle insurance package also caters for motorcycles and tricycles. Click tp learn more about AIICO Car Insurance.
AIICO's auto insurance covers the following category of people:
Private Vehicle Owners
Multiple Family Owners
Taxi Owners
Bus Owners
Delivery Vehicles
Commercial Fleets

3.

LeadWay Car Insurance
Leadway's comprehensive motor insurance provides benefits against loss or damage to your insured car as a result of an accident or a mechanical damage/breakdown.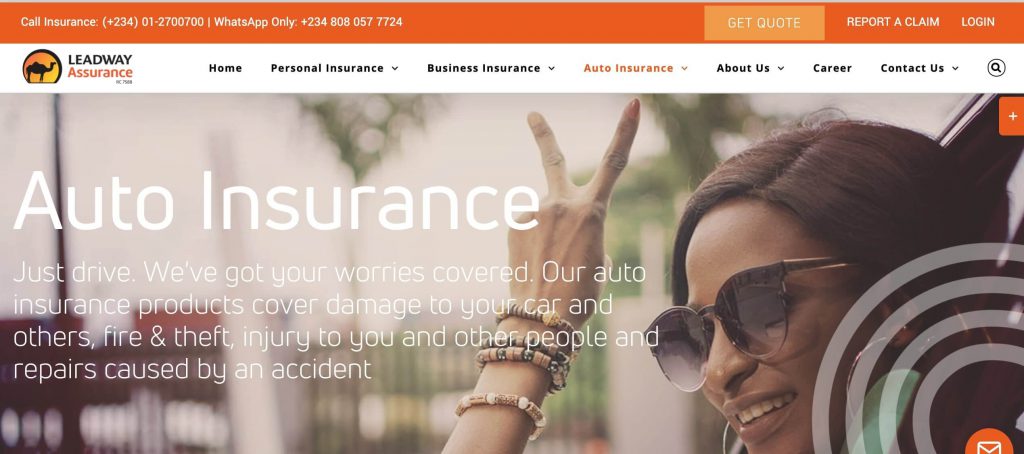 4.

Industrial and General Car Insurance (IGI)
IGI provides motor vehicle insurance that covers the following:
Third-Party Only: This only provides cover for unlimited indemnity for legal liability to third parties for death or bodily injury, legal costs incurred in defending an action for damages, liabilities that arise from accidents on third-party property damage, and so on. You can refer to this post to learn more about professional indemnity insurance.
Third-Party Fire & Theft: This car insurance policy provides the third-party only cover along with cover for the risks of fire and theft.
Comprehensive: This policy provides cover for accidental damage to the specifically insured vehicle.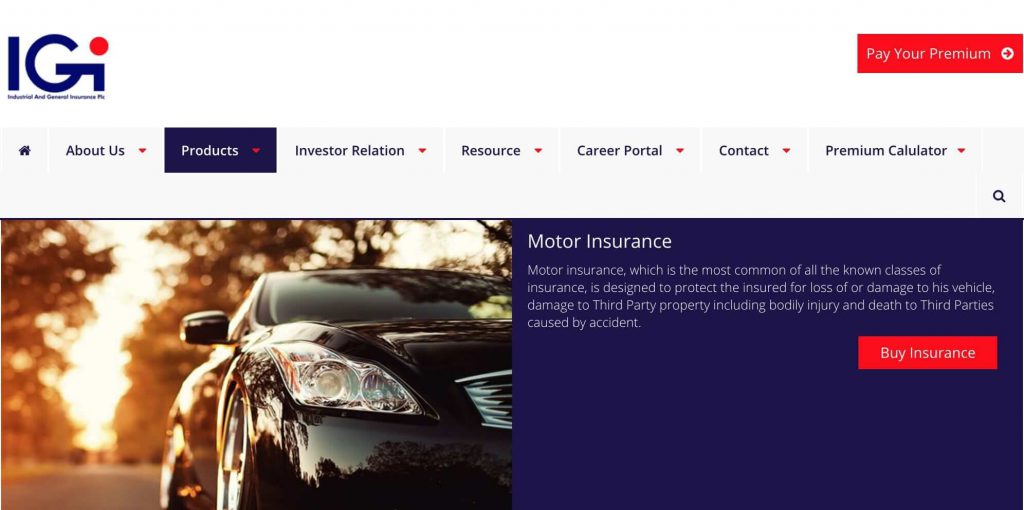 5.

Custodian and Allied Car Insurance
Custodian Motor Insurance Policy covers your car, truck, trailer, or motorcycles based on the motor insurance type you choose.
Their vehicle insurance policies include:
Comprehensive Insurance Cover: This covers accidental damages, fire, theft, accidental damage to the property of the third-party, death or bodily injury to the third-party.
Third-Party Fire & Theft Insurance Cover: This covers accidental damage to only the third-party's vehicle, death or bodily injury to the third-party.
What is Insurance and How Does it Work?
Basically, insurance is a setting whereby a company or a state agrees to give a guarantee of compensating a person for damages, loss, or death. In addition, this compensation comes in exchange for the remittance of a fixed fee.
In simpler terms, this means such a person will pay an agreed amount of money in advance to the company or state. This money will cover any future damage of assets under the insurance cover. Basically, the company achieves this by compensating such persons after the loss of the asset. Insurance is like saving up when you have plenty against the rainy days.
When you have car insurance, you don't need to worry if your car is stolen or damaged, your insurance company will compensate you by paying for the repair cost of your car. Also, if your damaged car is beyond repair or gets stolen, your insurance simply gets you a new car.
In addition, it is compulsory for you to get car insurance in Nigeria. According to the third-party motor vehicle insurance act of 1950, you must get third-party insurance for your car. The act is termed 'third-party insurance' and failure to comply could lead to imprisonment. Therefore, it is important, wise, and legal to get insurance for your vehicles.
Types of Car Insurance Policies in Nigeria
There are two types of car insurance policies in Nigeria. You can pick whichever one suits you best. They include:
1. Third-party Auto insurance
This is the most popular insurance company in Nigeria. Third-party auto insurance takes care of the bodily injuries and deaths accidents cause. In addition, it takes care of the damages and loss of belongings of any third party involved in the accident.
With this type of insurance policy, you will not get any compensation for losing your car. However, your insurance will cover the cost of your treatment. It will also cover the costs of any property of another person involved in the accident.
2. Comprehensive Auto Insurance
This insurance policy is neither popular nor mandatory in Nigeria. Also, it is a bit different from third-party insurance. With comprehensive auto insurance, the insurance takes care of the cost of your car when it is stolen or damaged. Basically, the insurance company covers costs for third-party coverage, body damages as well as legal liability for death.
Frequently Asked Questions
Is it worth getting fully comprehensive car insurance?
If your car is not worth so much, you can save costs by just getting third-party motor insurance. This is the minimum cover required by law.
What is third party insurance in Nigeria?
This is insurance that covers the insured liability for death or injury to a third party or loss/ damage of a third party's property in the event of an accident. Third-party motor insurance is a compulsory insurance policy in Nigeria.
Does third party insurance cover my car?
Third-Party Property Damage cover protects you from the costs of damage your car causes to someone else's car or property, however it doesn't extend to any damage your little beauty suffers in the event of an accident or other insured events.
Conclusion
With so many car insurance options to choose from, you can easily protect yourself from the financial risk that comes with driving. Basically, all you need to do is go through the different insurance options and select what works best for your specific needs.
Need a loan? Kindly check out this platform that allows you to compare loans from several lenders in minutes. This would help you make the best decision for you