Sometimes, car accidents happen and whenever they do, insurance ensures that our finances are safe. Car insurance coverage saves your finances if your car gets involved in an accident. However, you alone will determine the extent to which it helps based on the terms and conditions of your insurance policy. 
It is a wise decision for anyone to get car insurance to protect his/her finances from future emergencies.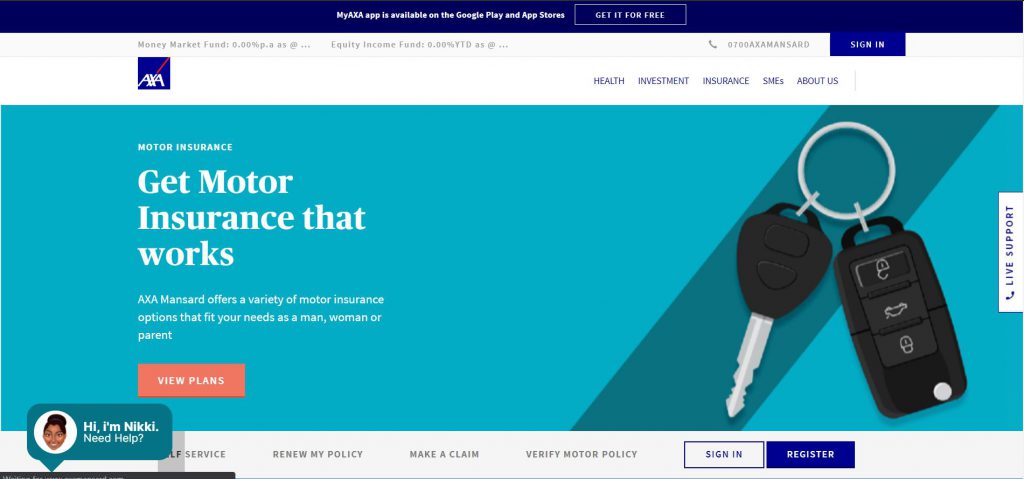 AXA Mansard Car insurance
AXA Mansard Car Insurance is one of the top private car insurance services in Nigeria that gives all risk cover for physical or property damage.
Basically, the insurance company is a subsidiary of AXA Mansard Insurance Plc. The company is a global leader in insurance and asset management boasting over 166,000 employees responding to over 107 million clients. 
AXA Mansard Plc was incorporated as a private limited liability company in 1989. Also, it is registered as a composite organization in NAICOM (National Insurance Commission of Nigeria). The company provides life and non-life-oriented insurance products and services to individuals and institutions across Nigeria. Basically, they help you protect your car from the financial consequences of big or small risks.
What services does AXA Mansard Car insurance offer? 
AXA Mansard Car Insurance offers a variety of services that aim at satisfying your needs. They include:
1. Autoflex
With Autoflex insurance, the company provides you with the ability to select your insurance covers and benefits. In addition, this package includes the compulsory third-party insurance cover as stated in the Nigerian constitution. However, Autoflex is for private SUVs and Saloon cars only. When you subscribe for this type of insurance coverage, you can select from a variety of options and covers.
2. Autoclassic
Basically, if you need affordable motor insurance that includes basic coverage, Autoclassic insurance cover is for you. This insurance covers the following:
Theft
Accidental damage
Fire damage 
Third-party cover 
also, Flood 
Excess buyback 
Medical expenses 
Towing benefits 
Vehicle tracker
lastly, Strike, riot, and civil commotion 
Basically, Autoclassic takes care of all the basic coverage including towing and medical expenses.
3. Autoplus
With Autoplus, you get comprehensive car insurance that covers you by giving you a courtesy car in case of accidental damage or theft. However, discounts apply to full-year covers only. Autoplus provides cover to:
Accidental damage 
Theft 
Fire damage 
Flood
Third-party insurance cover 
Excess buyback 
Medical expenses 
Vehicle tracker 
Towing benefits 
Lastly, Strike, riot, and civil commotion 
4. Autogo
Basically, Autogo offers you only the basic features of third-party motor insurance as stated by the Nigerian constitution. In simpler terms, it will offer you only the basic features of a third-party motor insurance with no stress. Autogo offers:
Third-party property damage of up to 1 Million
Third-party death and bodily injury of up to N60 million
Basically, the four services sum up what AXA Mansard Car Insurance offers. You can read more on how to process your car insurance claim in Nigeria.
How can I apply for AXA Mansard Car Insurance?
To apply for AXA Mansard car insurance, log in to their official website, www.axamansard.com, and follow the steps below:
Click on insurance 
Next, select motor insurance 
Thereafter, you can go through and select any car insurance type you wish
Lastly, fill in the form with your personal details and follow other instructions.
How can I contact AXA Mansard Car Insurance?
You can contact AXA Mansard car insurance through the following ways:
Address: 1412 Ahmadu Bello Way, Victoria Island, Lagos State
Phone number: 07006267273, 014485482, 08150649610
Email address: insure@axamansard.com
Website: www.axamansard.com
Closing thoughts
Since its inception, AXA Mansard car insurance has been reputable for providing quality services. Also, the information above shows why we all need car insurance to protect us from future risks. In case you are already considering getting one, AXA Mansard is sure to provide you with all you need to feel safe. Also, read more on the things to look out for in a car insurance company.
Do you need a loan? Be sure to visit this loan platform that allows you to compare loans from different lenders in minutes. It offers the best and ensures that you get nothing less.