Allianz Nigeria Insurance plc is one of the licensed insurance companies in Nigeria that deal with non-life and life and life insurance businesses offering a range of insurance products such as Motor, Life, Home and travel insurance.
Formed in 1993 as Union Assurance Company plc and relaunched as Ensure Insurance Plc in 2016. In 2018, it was acquired by The Allianz Group.
The Allianz Group. Is a German multinational financial servicing company and one of the leading insurers and asset managers worldwide with a portfolio of over 92 million retail and corporate customers worldwide.
In 2018, the Allianz group boasts of 142,00 employees in over 80 countries and achieved total revenue of 131 billion euros with an operating profit of 11.5 billion euros for the group.
Allianz Nigeria Plc offers a broad range of Insurance in Nigeria such as:
They also offer insurance services under insurance for businesses such as:
Burglary
Group Personal Accident
Fidelity Guarantee
Aviation
Money Insurance
Plant All Risks
Erection All Risks
Machinery Breakdown
Contractor's All Risks
Allianz Nigeria Insurance Claims Processing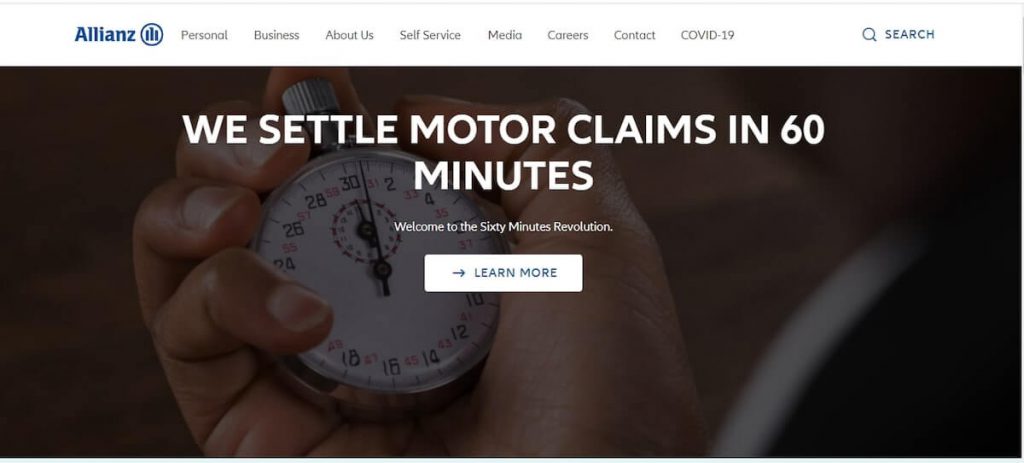 Before you can report a claim, you have to ensure that you have read and understood the conditions of the policy thoroughly. The Allianz policy assures its customers of a quick and prompt claims settlement to ensure utmost satisfaction to its client.
You can complete the claims form and attach all the substantiating documents to a mail.
These could include estimates of repair; evidence of damaged car/property;
a police report (in case of death); and any other documents that might be useful for claims processing. Download the claim form online, fill it in and forward via e-mail to Claims@Allianz.ng.
There are several channels in which you can initiate your claims processing as a claimant. They are as follows;
You can walk into any Allianz Nigeria Insurance branch office with the required substantiating documents to report your claim. A customer service officer will guide you accordingly on the next steps to be taken. As much as the organization tries to operate entirely on digital, it is still mandated by law to attend to customers' walk-in complaints
The Allianz Nigeria Insurance App (Allianz NG) – you can download the Allianz app on android platforms. The app enables you to manage your policy account on the go. Upon access to the app, you can report and track your claim requests directly from your phone
Once we have verified your claim, we will pay you by cheque or online transfer promptly. The payment comes immediately upon receipt of the discharge voucher from the claimant.
Allianz Nigeria Insurance Customer Service and Operational Branches
You can reach out to their office through any of these channels;
Customer Walk-in
Telephone (available Monday to Friday – 7 am to 7 pm)
Electronic mail – info@allianz.ng
Allianz Nigeria Insurance chat support (available daily from 7 am to 7 pm)
or by dropping a message on the contact form on their website.
Allianz Nigeria Insurance operates out of over 3 major branch offices in Lagos including the head office and four regional offices in Abuja, Ibadan, Port-Harcourt, and Benin