Tangerine pensions limited is one of Nigeria's leading pension fund administrators. The company has a team of experts committed to serving over 89,000 customers. Also, they manage customers' assets worth over N74 billion including RSA and retiree database. Tangerine pensions limited is committed to building lasting financial partnerships with clients and assuring them of a better future.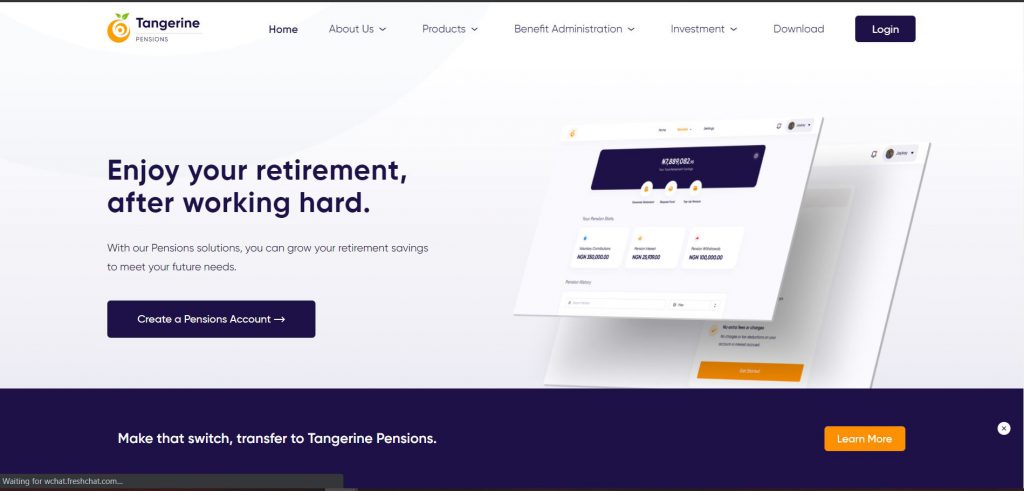 An Overview of Tangerine pensions limited
In 2006, Tangerine pensions limited was incorporated as Penman pension limited. Thereafter, Mansard insurance, a prominent insurance company bought shares and became a major shareholder of the organization in 2014.
The pension company is licensed to run as a pension fund administrator (PFA) to employees by PenCom. Also, they offer pension advisory, consultancy, as well as government services.
On the 26th of April 2021, the organization was acquired by Eustacia, a company governed by Verod capital management limited. Verod is one of West Africa's most foremost private equity firms. They focus on producing economic value across Africa. You can read more about pensions schemes in Nigeria.
What are the products and services offered by Tangerine pensions limited?
Basically, Tangerine pensions Limited provides its clients with a wide range of pension services. They include:
1. Retirement Savings Account (RSA)
You are free to open an RSA with AXA Mansard and make monthly contributions. This monthly contribution will require 8% and 10% from you and your employer respectively. In addition, you will be given a certificate of registration about the account upon registration. This certificate will contain your PIN as well as other important details pertaining to your RSA.
2. Micro Pensions Plan/Scheme (MPP)
The MPP is an arrangement that permits the self-employed to donate towards their pension fund after retirement. Also, this scheme accommodates people working in organizations with less than three employees. Under the MPP, unions, associations, trades, as well as cooperatives, can join the scheme.
However, the MPP is a voluntary scheme not mandatory for the self-employed. The MPP primarily has three benefits. They include:
The ability to make withdrawals before retirement
You can adjust your contribution remittances
It Will help you achieve financial independence in your old age
Basically, you can open a Micro pension account on AXA Mansard's website.
3. Additional Voluntary Contributions (AVC)
Voluntary contributions are contributions you willingly decide to donate to your RSA. However, your pension fund administrator sets these contributions apart from your monthly RSA donations. You can only access your AVC once in two years. Although, accessing it requires you to leave it for a minimum of 24 months in your RSA.
4. Nigeria Social Insurance Trust Fund (NSITF) fund transfer
In accordance with the Pension Reform Act 2014, all NSITF contributors are eligible to transfer their balances. Therefore, this simply means that you can transfer funds from your NSITF to your RSA. Here are the documents you must have to do an NSITF fund transfer:
NSITF membership certificate
A copy of your completed NSITF transfer form
Valid Identification card
5. Approved Existing Scheme
Tangerine pensions limited consist of a team of experts that offer to manage your approved existing schemes (AES). The company is positioned to offer the best services that will meet your expectations. In addition, they manage existing schemes of both private and public companies in Nigeria. Basically, all these features sum up the uniqueness of the company.
How can I make an RSA transfer to AXA Mansard?
AXA Mansard allows you to make an RSA transfer only once a year. Here's how to go about it:
First, you can start by visiting any Tangerine Pensions branch
Thereafter, you need to submit your RSA transfer request and provide all the details required.
Next, you validate your identity via fingerprint authentication with the National identity management commission database.
Lastly, you can transfer your RSA balance from your current PFA to AXA Mansard Pensions.
What are the benefits of choosing Tangerine pensions limited?
The company possesses the following unique qualities:
Excellent customer care services
Expected management team
Access to insurance products
Also, the company is reputable for its prompt payout process
How can I contact Tangerine pensions limited?
You can contact Tangerine pensions limited through the following ways:
Address: No 21B, Olosa street, Victoria Island, Lagos, Nigeria.
Phone number: 014485490
Email: pensioncare@tangerine.africa
Bottom line
Tangerine pensions limited is known for rendering quality services to its customers. Without a doubt, entrusting your pension fund with them is a great idea. Read about the Pension companies in Nigeria here and about PenCom here
Here are more pension companies:
Need a loan? Kindly check out this platform that allows you to compare loans from several lenders in minutes. This would help you make the best decision for you