With over 13 years of experience under their belt, Pal pensions is a certified pension funds administrator (PFA) that manages and administers the savings contribution of Nigerian employees. The organization operates according to the pension reform act of 2004. Basically, pension is a vital part of every employee's life, and it helps them compulsorily plan for life after work. However, left to many, they would end up with little or nothing to fall back on after long years of work. Therefore, this is why compulsory insurance exists, along with PFAs like Pal pensions to help you manage, invest and disburse your money in due time.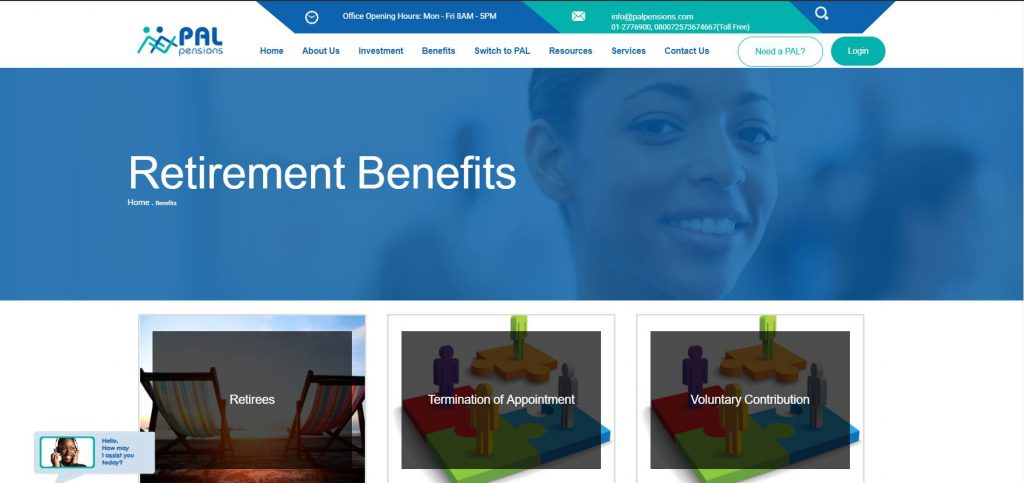 An overview of Pal Pensions
Pal pensions is a bit part pension fund administration, along with an investment corporation. The organization exists as a joint venture between two companies; First Securities Discount House Limited (FSDH) and African Alliance Insurance Company Limited. FSDH is more popularly known as FSDH Merchant Bank. Also, pal pensions was incorporated far back in 2005, to manage the retirement savings contributions of employees in Nigeria.
What services do Pal Pensions offer?
Pal pensions offer the following services:
Retirees
Like all regular PFAs, pal pensions manages the Retirement Savings Account of Retirees. However, they only qualify to access when 50 years or above and are out of employment. Also, as a retiree, you can opt for either a programmed withdrawal or annuity payment option of your funds.
Termination of appointment
The termination of appointment services covers individuals who are less than 50 years, but unable to secure another job after 4 months of leaving their current employment. Therefore, in such a situation, you are allowed to withdraw up to 25% of your RSA balance. However, note that this withdrawal is applicable only once in a lifetime and you can always resume contribution should you get another job.
Voluntary contribution
Voluntary contribution (VC) allows you to go the extra mile by contributing more than the basic percentage according to the law. However, note that you can only withdraw up to 50% of your VC after 2 years in your retirement savings account. Also, they only allow subsequent withdrawals once every two years, and it applies to the contribution you made after your last withdrawal. Basically, you can access only 50% of your additional contribution while the other 50% would be until your retirement.
Death benefit
Death benefit is a payment the organization makes to the beneficiary of a deceased contributor or retiree. Basically, after he or she dies, Pal pension allows the beneficiary named in the will or letter of administration access the balance in the RSA.
Pal Pension withdrawal
Withdrawing from your pal pension account is conditioned on any of the features as discussed above. Therefore, you need to meet at least one of those criteria. To withdraw, you would need to provide the following document at any of their offices:
Retirement letter issued to the RSA holder by the employer
Two (2) passport photographs.
Proof of age i.e. birth certificate or sworn declaration of age
Payslip (any of three months prior to the month of retirement)
Bank document for confirmation of account details i.e. one-page of recent bank account statement or letter of introduction from the bank
Valid means of identification i.e. National ID, Voter's Card, Driver's License, International Passport, or letter of introduction from the bank (with a stamped passport of account holder)
The organization only processes payment after submitting these documents. However, note that the documents may be more or less depending on the exact type of service you withdraw through. For example, in the case of death benefits, the beneficiary needs to provide a death certificate, but that isn't required for any other withdrawal services.
How can I contact Pal Pensions?
You can contact them by visiting their head office at:
Pal pensions office in Lagos: 205B Ikorodu Road, Obanikoro, Lagos
Phone: 08174585635, 08174585632, 08174585627
Email: uduak.essien@palpensions.com, uche.okigbo@palpensions.com, info@palpensions.com
You can check out a full rundown of their office address all over Nigeria at: https://www.palpensions.com/contact-us/
Bottom line
Pal pensions remain one of the top pension funds administrators in Nigeria, with thousands of clients and over 12 years of experience. Basically, they offer some of the best services to their users, while growing their savings through secure investments.
Do you need a loan? Be sure to visit this loan platform that allows you to compare loans from different lenders in minutes. It offers the best and ensures that you get nothing less.