If you are on this page, chances are that you want to know more about premium pensions. Should that be the case, you are in the right place for information. In this article, we will review all you need to know about premium pensions. This includes their services, a brief overview of the company, and other important information about them. Without further ado, let's get started.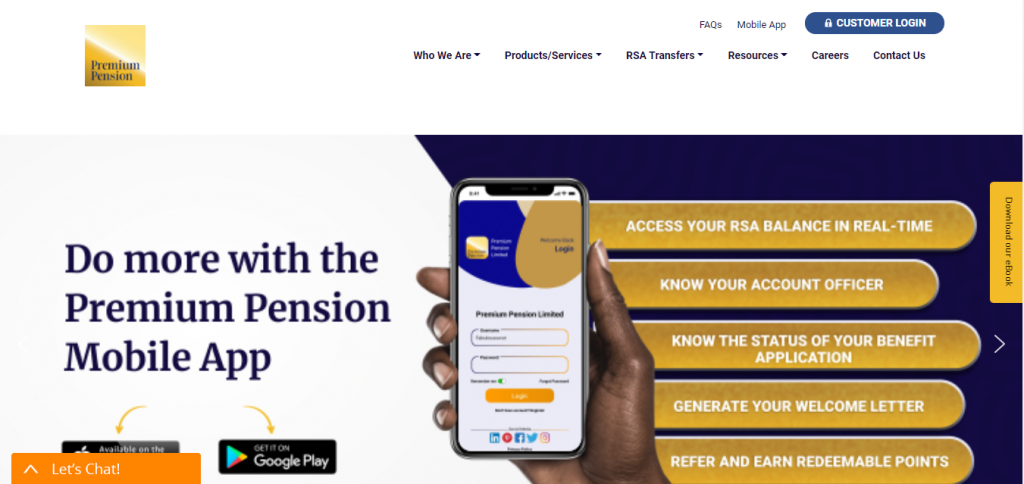 A brief overview of Premium Pensions
Premium Pension Ltd is one of the first set of Pension Fund Administrators (PFA) licensed by the National Pension Commission (PenCom) in December 2005.
As of the time of this article they have over 600,000 members and N700bn Assets Under Management (AUM). Asides from this, they are one of the fastest-growing PFAs, consistently delivering competitive returns.
Furthermore, they have partnered with dominant organizations such as First Pension Custodian Limited and UBA Pension Custodian Limited; both of which are licensed Pension Fund Custodians (PFC).
Over the years, premium pensions have grown to be a dominant force in the Fund administration industry. Here are some of their milestone:
One of the leading Pension Fund Administrators (PFA) in Nigeria
largest customer base in the Industry
One of the largest Assets under Management
Return on Investment is one of the highest
Secured Retirement Funds
Outstanding Retirement Benefit payment
National spread
Diversified customer base including well known corporate names
First Pension Fund Administrator to be ISO 27001 and 9001 certified. Also, 2013 certificate on Information Security Management System (ISMS) by the British Standard Institute
What services does Premium pension offer?
Here are some of the services offered by Premium pension limited:
1. Retirement Savings Account:
According to Section 11 of the pension reform act of 2014, it is mandatory that every organisation with more than 5 employees open an RSA for their employees.
On this note, the Premium pension designed this product offering to help organizations save a percentage of their employee salaries for their retirement.
2. Voluntary Contribution
This service is an additional voluntary contribution from your salary to your RSA. The primary reason for this initiative is so that this can suffice if your regular pension contribution will not be sufficient to meet your personal retirement goals.
Also, the funds will also be invested on your instruction, ensuring your money works harder for you.
Kindly note that you do not need to open a separate pension account or fill any additional forms as this contribution would be made directly to your already existing pension account.
3. Micro Pension Plan
The Micro Pension Plan (MPP) is a savings plan created for, but not restricted to, self-employed individuals. Additionally, It is also for individuals working in organizations with less than 3 employees.
An amazing thing about this service is that there is flexibility around the amount to be contributed, and also the frequency of contribution. This are both at the discretion of the contributor.
4. Pension Advisory Service
Premium Pensions Limited designed this product offering to help their client plan their retirement. The primary aim of this is to help their clients achieve their dreams and financial goals. This is through Investment advice, portfolio management advice, etc.
5. Institutional Pension Fund Management:
This service is only available to Corporate bodies, MDAs, and State Governments to manage. Basically, this is in accordance with the Pension Reform Act 2014 (PRA) set to administer, invest and manage pension funds accrued before 2014, in strict adherence to guidelines from the National Pension Commission.
6. Cross Border Pension Plan:
This product enables expatriate employees in companies registered in Nigeria and Nigerian citizens working in other countries to participate in the Nigerian Contributory Pension scheme. This means any foreign employee in Nigeria can register for this scheme at their discretion.
How can I contact Premium Pensions?
To contact Premium pensions, you can leverage any of the means below:
Phone Number
09-7000020
09 461 5700-4
Email
Address
No. 4 Awgu Close, off Faskari Crescent, Area 3, Garki, Abuja, Nigeria
Conclusion:
Premium Pensions is a reputable fund administrator with several years of experience. They are the best at what they do. To explore their dynamic services, and also to learn more about them you can visit their website on www.premiumpension.com.
Here are some pension companies:
Read about simple steps to register for the micro pension with AWABAH
You can obtain a comprehensive loan, tailored to your specific needs by using this platform. Basically, it allows you to compare loans from different lenders across Africa, ensuring the best option doesn't slip through.