APT pensions is one of Nigeria's leading pension fund administrators. It was established in 2004 and has gained recognition and a solid reputation over the years. Basically, the company allows pensioners to contribute towards their pension funds ahead of retirement.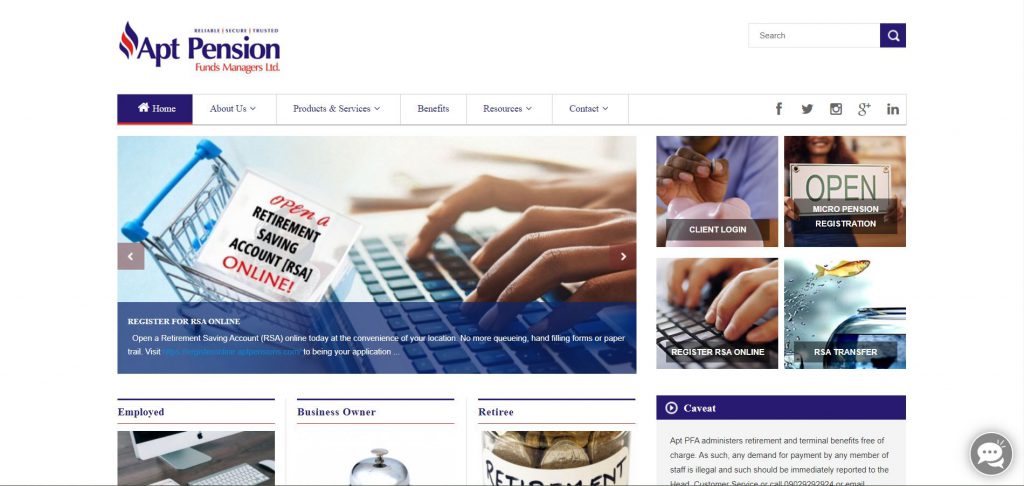 An overview of APT Pensions
Incorporated in December 2004, APT pensions is one of the foremost pension fund managers in Nigeria. Thereafter, the company was granted a license to operate as a Pension Fund Administrator (PFA) by the National Pension Commission (PenCom) on November 22nd, 2006. Basically, their sole mission is to offer pensioners exceptional returns on their retirement benefits and produce the best returns to vital stakeholders through hard work and complete devotion to pensioners' need
What are the products and services offered by APT pensions?
APT pensions offers a wide range of exceptional services. They include:
1. Retirement Savings Account (RSA)
RSA is an account opened by a pensioner with a pension fund administrator in accordance with the Pension Reform Act 2004. The account is used to store information pertaining to monthly contributions from both the pensioners and his/her employees. Also, the pensioner can contribute an additional amount of money called the Additional Voluntary Contribution (AVC) which will be included in the RSA.
The RSA is a good investment that produces returns and continues to grow if properly managed by the pension fund administrator. APT pensions grants every pensioner access to their RSA fund depending on the terms and conditions of service.
2. Additional Voluntary Contribution (AVC)
The AVC is an additional amount of money contributed by a pensioner excluding the normal RSA monthly contribution. A pensioner is free to partake in AVC as he wishes. However, the law permits a pensioner to withdraw funds. from AVC at any time.
3. Investment Fund
APT pensions philosophy is to invest funds securely and profitably to benefit pensioners in the long term. Basically, investments vary and the company completely determines where it goes.
4. Nigeria Social Insurance Trust Fund (NSITF)
APT pensions transfers all contributions made by a NSITF member to his/her Retirement Savings Account. Basically, you as a NSITF member can do this by filling the NSITF membership record updates form given by the Pension fund administration and forwarding it to the PFA for processing.
What are the requirements of NSITF transfer on APT pensions?
You require the following document:
2 passport photographs
Original NSITF certificate
A copy of your valid ID card
APT pensions update of NSITF form
Lastly, NSITF contribution transfer application form
However, they can ask you to provide other important documents pertaining to the transfer.
5. Pension Advisory Service
APT pensions also provides advisory services and lectures to teach pensioners how to cope well and manage their pension funds.
6. Micro Pension Plan (MPP)
Basically, the MPP is an arrangement that permits the self-employed and others working in micro organizations to contribute towards the provisions of pension funds at their retirement.
Can I make an RSA transfer to APT pensions?
Yes, you can make an RSA transfer from your former pension administrator to APT pensions anytime you wish to. However, you can only make an RSA transfer once a year in accordance with the Pension Reform Act made in 2014.
Also, the purpose of transferring RSA is to promote ethical competition among PFA and enhance service delivery to pensioners.
What are the benefits of using APT pensions?
APT pension's mouth-watering benefits are:
1. Pension Plan benefit:
This grants pensioners access to part or all of his/her retirement funds before or after retirement depending on the pensioner's age, health or work condition, and RSA balance.
2. Insurance policy benefit:
This grants a pensioner the privilege to buy an annuity agreement with a reputable insurance company.
How do I contact APT pensions?
You can contact APT pensions through the following:
Address: FMBN Building, plot 266 Cadastral AO, CBD Abuja. However, they have branches strategically situated in several states in Nigeria.
Phone: 08097533013
Email address: info@aptpensions.com
Bottom line
Basically, from its excellent services to its amazing benefits, APT pensions is sure to end your search for the right pension company in Nigeria. This detailed article will give you insight into all you should know before giving them a try.