First guarantee pension remains one of the top choice pension fund administrators in Nigeria with a reputation for creating wealth and premium customer service. Today, pension has become as important as ever, considering the fact that many Nigerians work all through their lives but end up with little or nothing to fall back on after retirement. Also, many end up not getting their benefits, come retirement. However, with First Guarantee Pension, you can rest assured that your money is safe and you would receive it in due time.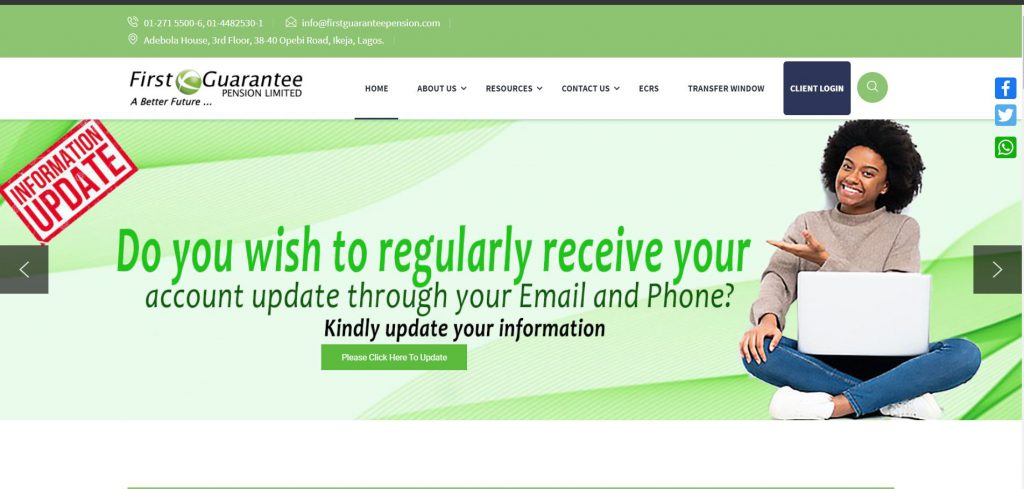 An overview of First guarantee pension
First guarantee pension has a major goal to become the PFA's first choice in Nigeria. However, going a little deeper, the organization is all about wealth creation and excellent customer service. They do this through superior consistency as well as a sustained return of investment to involved stakeholders. In addition, the company maintains a strong focus on securing assets to help effectively deliver services to the customers.
What services does first guarantee pension offer?
First guarantee pension offers the following services:
1. Transfer window
Transfer window is a duration in which customers have the license to transfer their retirement savings account contributions from one pension fund administration to another. Basically, they make use of the RTS system, which is an electronic platform that makes things as easy as ever. Also, note that this window opens only once a year.
2. Additional voluntary contributions
With additional voluntary contributions, you can decide to save up more than the minimum savings set by the federal government. Therefore, this means that you can increase the amount of money you save in your RSA to augment your pension at retirement. This is backed by Section 4 (3) of The Pension Reform Act, 2014
3. Retirement savings account
The retirement savings account is a must for all employees of labours all over Nigeria. Basically, it is an account opened on behalf of an employer where he or she saves up money against retirement. First guarantee pension RSA platform allows you to open an account by filling up the form on their website http://www.firstguaranteepension.com/account-opening-form.
4. Micro pension
Micro pension is a service that targets workers in the information section of the Nigerian economy. Basically, it is more or less a hybrid product between pension scheme and savings. However, its foundations still remain on the fact that it helps employees save over time.
5. Programmed withdrawal
Program withdrawal is a retirement payment format through which an employee's retirement benefit is paid after retirement. However, the PRA 2014 guides this program, ensuring that the retiree is paid periodically until death.
6. Retirement advisory
Retirement advisory involves providing informatory services to customers to help them make better decisions. This includes timely retirement engagements and customer interactions, vital decision making, and all.
How to withdraw your first guarantee pension fund
Retirement from your first guarantee pension fund is guided by PenCom laws. Basically, it states that it can only be made upon retirement. However, you can withdraw voluntary contributions before retirement or age 50.
First guarantee pension app
The first guarantee pension app is an application that makes managing your RSA as easy as possible. It keeps you informed as well as provides information to help with further retirement planning. Some of its benefits include:
Real-time access to Retirement Savings Account (RSA) balance information
Generation of Retirement Savings Account (RSA) statements
Real-time access to your Investment Account information
View of recent transactions on Retirement Savings Account (RSA) and Investment
Retirement tips to help plan for retirement
Micro Pension Payment for Micro Pension Clients
Multi-Logon Options
Enhanced User Experience
Chat with agents
How can I contact First guarantee pension?
You can contact the organization through the following:
Location: Adebola House, 3rd Floor, 38-40 Opebi Road, Ikeja, Lagos.
Phone: 01-271 5500-6
Mail: info@firstguaranteepension.com
Conclusion
First guarantee pension remains a top choice for employees in Nigeria. Their easy-to-use application makes things much easier, ensuring you have nothing to worry about when it's time for disbursement.
Need a loan? Kindly check out this platform that allows you to compare loans from several lenders in minutes. This would help you make the best decision for you.