Crusader Sterling Pensions Limited is a privately owned pension fund administrator (PFA) in Nigeria. Over the years, the PFA has been able to build itself to become prominent In Nigeria. Also, the company boasts of over 45 years of prominence and exceptional experience in managing pension funds.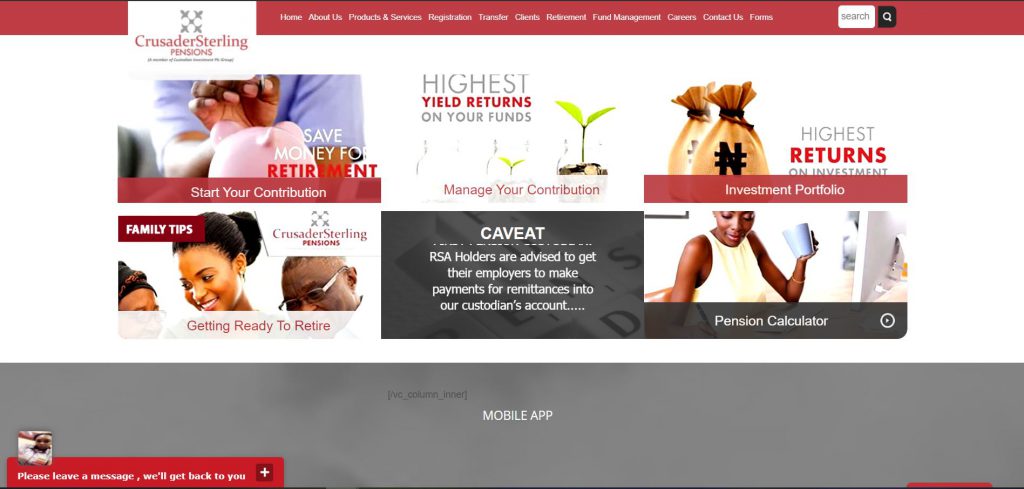 An overview of Crusader Sterling Pension limited
Crusader Sterling Pensions limited was incorporated in 2004 and has since become a household name. Also, the company administers retirement funds of employees in Nigeria under the supervision of the National pension commission.
In 2014, Crusader Sterling pension was awarded as Nigeria's best-performing pension fund administrator. In addition, the organization is reputable for consistently leading in terms of returns on investment for eight years.
Basically, the PFA is jointly owned by four institutional investors. They include:
Custodian investment plc
WSTC financial service limited
Sterling Asset management ltd
Ideal Insurance Brokers limited
Licensed and regulated by PenCom, the organization's sole aim is to be the best pension fund administrator whilst providing superior returns.
What are the products and services does Crusader Sterling Pensions limited offer?
Basically, Crusader Sterling Pensions limited offers a variety of services. They include:
1. Retirement Savings Account
This is an account you open with your pension fund administrator. Your retirement savings will be kept in this account until you retire from active service. Usually, your PFA manages your retirement savings account. You can read more about the compulsory insurance scheme in Nigeria.
2. Additional Voluntary Contribution (AVC)
These are additional tax-free contributions you make towards your retirement savings. Your AVC depends on how much you earn and spend. Also, you are free to partake in AVC as you wish. However, you can only withdraw
3. Retiree account
A retiree account holds the balance transferred from the RSA. The account is opened under the Retiree fund. However, this fund is more conventional than the RSA because they do not expose it to the equities market. After you retiree, they would move your pension fund from your RSA to your retiree account. Thereafter, you will receive a lump sum from it every month
4. Gratuity funds
Gratuity funds are complex funds that PFA manages. Basically, their major purpose is to offer higher payouts to eligible employees. Also, you will have to map out a trust deed to state how your PFA should manage the fund.
Can I make an RSA transfer to Crusader Sterling Pensions limited?
Yes, you can make an RSA transfer from your former PFA to Crusader Sterling Pensions limited. However, you can only make an RSA transfer once a year.
What are the benefits of using Crusader Sterling Pensions limited?
Crusader Sterling Pensions limited mouth-watering benefits include:
Prompt payment of your pension.
Also, a superb customer service.
You have access to insurance services.
Lastly, high-quality management team.
Basically, these benefits are enhancers to other attractive qualities that the company possesses.
How can I contact Crusader Sterling Pensions limited?
Here's how you can contact Crusader Sterling Pensions limited:
Address: No 14b Keffi street, off Awolowo Road, Ikoyi, Lagos, Nigeria
Phone number: +23412714605 or +2348180112985
Website: info@crusaderpensions.com
Bottom line
Records have shown that Crusader Sterling Pensions limited is a company you can trust. Also, the company designed it Its unique benefits to meet you at your need. Simply log on or visit any of their official outlets to start benefitting from their services today.
You can obtain a comprehensive loan, tailored to your specific needs by using this platform. Basically, it allows you to compare loans from different lenders across Africa, ensuring the best option doesn't slip through.