The importance of having insurance cover cannot be underestimated. Essentially, protects you against the harsh uncertainties of life. Also, it saves costs by helping you pay off a loss. Saving every extra cash has a direct impact on your overall financial management and wellbeing. MyCoverGenius is an all-in-one insurance platform created to cover all your needs. Here is a full detail on everything you need to know about the company.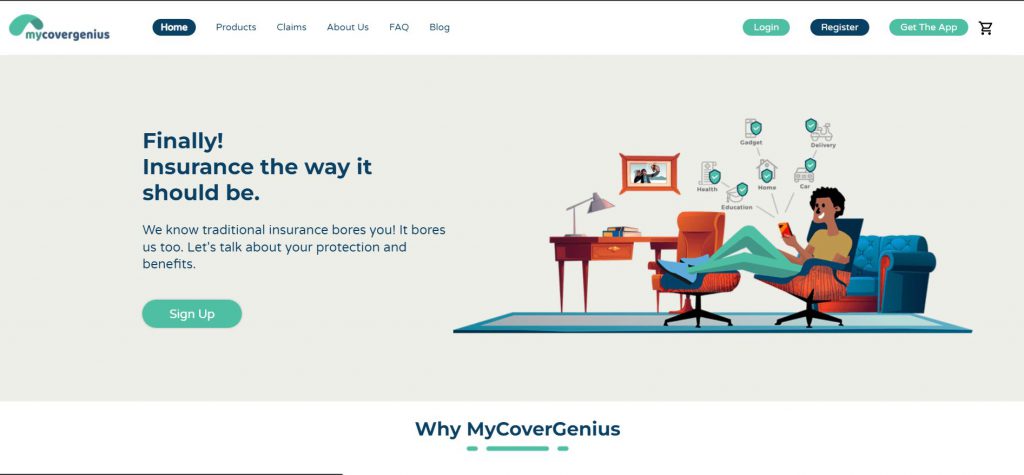 An Overview of MyCoverGenius
MyCoverGenius, formerly MyAutogenius is a digital insurance platform that offers you full coverage on every of your insurance needs. The platform is mainly product-driven. Basically, this implies that they mainly focus on making products that do the hard work for you. The organization is notable for the unique and stress-free insurance service they offer to customers
The privately-held insurance company was founded in 2014. Essentially, they specialize in auto insurance, insurance claims, insurance comparison, as well as and insurance brokerage.
What are the products MyCoverGenius offer?
MyCoverGenius offers you a wide range of insurance coverage. They include:
Health is wealth. The company offers to cover all your health needs and challenges at a flexible payment plan. Basically, they grant you access to over 1,000 hospitals all over Nigeria.
2. Auto Insurance
Auto insurance simply means your car insurance. MyCoverGenius offers you the Third Party, Third Party Plus as well as the Comprehensive Auto Insurance. Essentially, the third party insurance covers you if you cause injury to a third party or damage their property when you are driving. The Third-Party Plus is similar to the third party but provides wider coverage. Lastly, Comprehensive Auto Insurance takes care of the cost of your car if it gets stolen, vandalized, or burnt.
3. Gadget Insurance
As the name implies, the Gadget insurance covers the cost of your electronic gadgets. This gadget could be either your phone or Laptop.
4. Travel Insurance
Travel insurance takes care of any cost incurred by incidents that occur while you travel. Also, you receive compensation for delayed or canceled trips.
These sums up all of the products that MyCoverGenius has to offer you.
How can I register on MyCoverGenius?
To sign up on MyCoverGenius, follow the steps below:
1. Log in to their website, www.mycovergenius.com
2. Next, click on the 'register' toolbar and input your details on the registration form.
3. Lastly, submit your details and they will contact you for any further requirements.
What are the requirements I need to register on MyCoverGenius?
Basically, the details you need to register on the insurance platform are your name, phone number, email address, and password.
Does MyCoverGenius have an app?
No, the digital platform does not have an app yet. However, there are steps you can follow to report an incident on their official website, www.mycoverGenius.com. After you report an incident, you will receive help as soon as possible.
How can I report an incident to MyCoverGenius?
When things go wrong, always remember that you have insurance coverage. Here are 4 simple steps on how to report an incident:
1. Take a picture of the incident
First, you need to make sure that you are safe. When you are in a safe place, take pictures of the incident. These pictures will serve as pictorial evidence.
2. Describe how it happened
Basically, after taking some pictures of the incident, you will need to give a detailed explanation of how the incident happened.
3. Upload other relevant documents
In addition, you need to upload other supporting documents for the claim processing like the estimate of repairs. Upload these documents alongside the picture and details of the incident.
Lastly, give the platform a few minutes to process your claims and answer you within 24 hours. You can read more on the steps to processing a car insurance claim in Nigeria.
How can I contact MyCoverGenius?
Basically, you can contact MyCoverGuide in the following ways
Address: 8, The providence Street, Lekki Phase 1, 106104, Lagos
Phone Number: 0700 5555 4444
Website: www.mycovergenius.com
Email: hello@mycovergenius.com
Bottom line
You need to have insurance coverage as it saves you from unbudgeted costs. MyCoverGenius offers you a variety of insurance services suitable for your needs. Also, these services are strictly digital so there will be no need for you to do any paperwork. With this company, your insurance process is simple, unique, and stress-free.
Also read about Crusader Sterling Pensions and Cassava Smartech.
Do you need a loan? Be sure to visit this loan platform that allows you to compare loans from different lenders in minutes. It offers the best and ensures that you get nothing less.