Insurance is a system that ensures your life without any risk, as it bears all the risks associated with certain events for a cost. Today, there are a ton of insurance organizations offering numerous services to choose from, however, Industrial and General Insurance PLC Nigeria (IGI) remains relevant. IGI Insurance Nigeria remains a good choice for insurance across life, and business-related matters, as well as other specific policies which we would be looking at in this article.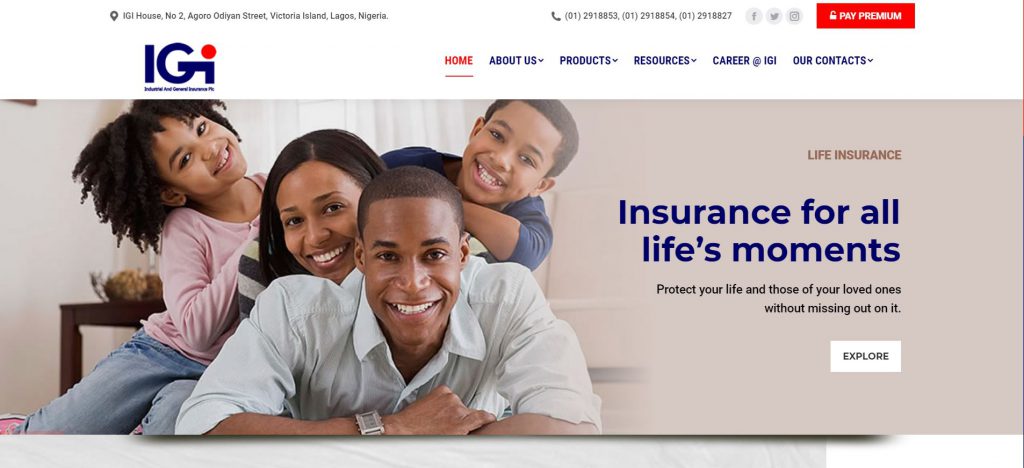 An overview of IGI Insurance Nigeria
Rolling back the years, IGI insurance Nigeria was first incorporated back in 1991 as a private limited liability company. However, they then reregistered the company as public limited liability in 2007. Basically, IGI Insurance Nigeria exists to transact life, business, and other general insurance like special risks and pension. In addition, the company is run and backed by first-class professionals, harnessing modern technology for optimal service delivery. More so, they have an exceptional reputation for competence and are a top choice for individuals and private organizations.
What services does IGI insurance Nigeria offer?
IGI insurance Nigeria basically offers services across two major areas:
1. Life products
This service incorporates everything related to life insurance both at an individual level and on a corporate or group level. Basically, the products available under it are:
a. Group Life:
This service caters for life assurance for a specified set of people and can be further divided into;
Group life assurance
Life gratuity scheme
Staff retirement
b. Individual life:
Individual life insurance simply caters for life insurance as a single individual and can be further divided into:
Annuity Plan
Continuous Educational Endowment Plan (CEEP)
Credit Life Plan
Dividend Plus Plan
Endowment Assurance (With or Without Profit)
Mortgage Protection Policy
Multi-Investment Plan
School Fees Plan
Term Assurance Plan
Whole Life Assurance
2. Non-life products
Non-life products are insurance services that are related to business rather than providing cover for human lives. Basically, the products available under it are:
Agricultural insurance
Aviation
Engineering/ contractors all risk
General business
Marine
Oil and energy
How do I apply for claims with IGI insurance Nigeria?
Basically, simply follow the steps below to apply for a claim with IGI Insurance Nigeria:
Visit their official website at https://www.iginigeria.com/
Navigate to the options menu and select resources
Select claim forms and download the form for your specific type of claim
Fill out the form and notify the company of your claim ahead through writing, verbally, or mobile phone
Lastly, you would be instructed on the next steps to take
In addition, for a rundown of the documents, you'd need to provide, simply visit the claims procedure from the resources menu on their website.
How do I Contact IGI Insurance Nigeria?
You can contact IGI Insurance Nigeria through any of the following means:
Head Office: 2, Agoro Odiyan Street, off Adeola Odeku, Victoria Island. Lagos.
Follow this link for a full list of all their offices to find the closest near you: https://www.iginigeria.com/our-offices/
Email: info@iginigeria.com
Telephone: (01) 2918853, (01) 2918854, (01) 2918827
Also, you can choose to fill out the contact form by following this link https://www.iginigeria.com/contact/ and an agent would reach out to you soonest.
Bottom line
From personal to live or business insurance, IGI has you covered. More so, their decades of excellence speaks volume of their quality. Also, the company has a solid database, with a quick turnaround time and computerized processes to ensure services are always optimal and timely. 
Do you need a loan? you can obtain a comprehensive loan, tailored to your specific needs by using this platform. Basically, it allows you to compare loans from different lenders across Africa, ensuring the best option doesn't slip through.