Estimated reading time: 4 minutes
About Cornerstone Insurance
Cornerstone Insurance is one of the foremost insurance companies in Nigeria. Cornerstone Insurance Incorporated initially on July 26, 1991, as a private limited liability company. The Insurance company went public and started trading on the Nigerian stock exchange in 1997.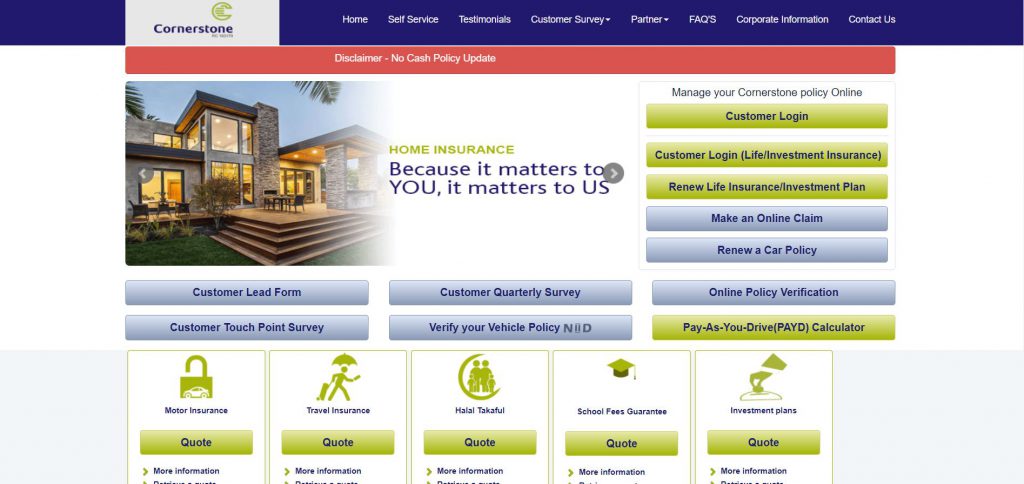 They have a great reputation for tech-driven innovations. They are the first company to provide an online platform for insurance in Nigeria.
What products does Cornerstone Insurance offer?
1. Motor Insurance
Cornerstone has three different motor insurance policies. They include.
Enhanced Comprehensive: This is a robust package that covers your vehicle from accidental damage, fire and theft. This plan also shields you from any damage to third parties up to a limit of one million Naira.
Third-Party: This package protects you from any accidental damage caused to a third party. This package also gives you unlimited but reasonable liability for death or bodily injuries.
Auto Variants: This is a variety of insurance packages that applicants can select from based on their needs. These packages include Auto bronze, Auto silver, Auto gold, Auto platinum and Auto compact.
2. Travel Insurance
Cornerstone's travel insurance policy – Travel Safeguard is specifically for passengers travelling across various destinations in Nigeria. This plan includes cover for loss and damage to baggage, and cash compensation to the passengers' next of kin in the unfortunate occurrence of an incident is also part of the plan. This package applies to both Air and Road travel and comes in variants, depending on each person's needs and preference.
3. School Fees Guarantee
This package covers the applicant's children from any unexpected halt to their education. Basically, if the parent loses their job or passes on, this package serves to cover the payment of their children's school fees.
4. Home Insurance
Basically, this policy provides insurance cover for any loss or damage to the insured building caused by an Insured Peril. Insured perils include fire, lightning, explosion, flood, and malicious damage. It also covers the contents of the building. This policy offers additional benefits like the cost of alternative accommodation, medical expenses, etc.
5. Life Insurance
This is a term "assurance cover" to guarantee payment of a specified amount to the beneficiary of this package, in the event of the death of the policyholder. This cover is only valid within the period prescribed by the policyholder. Therefore, the company will not pay should the death occur outside this specified period.
6. Annuity
Basically, this product is simply a contract between the insurance company and the policyholder. It occurs wherein the policyholder deposits a large sum of money to the insurance company. 
This sum ensures that he/she will receive a specified amount at a particular frequency (Monthly, Quarterly, Annually, etc.) for the rest of their life. Payment ceases only in the event of the annuitant's death.
Cornerstone Insurance's Annuity product is available in the following 3 variants:
Flat Annuity with No Guarantee: Under this variant, the client receives payment for as long as they live.
Flat Annuity with 5 Years Guaranteed: For this annuity type, the payments are made to the client for five years regardless of whether he lives or not. If the client dies during the five years, outstanding debts go to a named beneficiary or his next of kin. If not, the payments will continue until the client dies.
Flat Annuity with 10 Years Guaranteed: Similar to the 5-year guarantee, the payments go to the client for ten years. This arrangement is regardless of whether he lives or not. If the client dies during this period, then the fees go to a named beneficiary or his next of kin. If not, the payments will continue until the client dies.
How to Process Claims from Cornerstone Insurance
To process a claim from Cornerstone insurance, all you need do is go to their website and make an online claim.
You will have to fill out a claim form including your name, policy type, policy number, and also details regarding the incident. You can also lodge complaints or make enquiries at claimscare@cornerstone.com.ng.
Cornerstone Insurance has operational branches across various regions like Lagos, Imo, Kano, Warri, and Yenogoa. Their head office is at 1, Water Corporation Drive, off Ligali Ayorinde Street, Victoria Island, Lagos, Nigeria
For further enquiries, here are the company's contact details:
ecare@cornerstone.com.ng (Sales Enquiries & Support)
2. enquiries@cornerstone.com.ng (Corporate Enquiries, Feedbacks & Complaints)
3. Telephone numbers: 08106000800 (Sales Enquiries & Support)
Bottomline
Cornerstone insurance is one of the leading insurance companies in Nigeria today. You can access their services by visiting their official website today.
Do you need a loan? Be sure to visit this loan platform that allows you to compare loans from different lenders in minutes. It offers the best and ensures that you get nothing less.