Many insurance companies provide significant insurance policies and services to their customers and sometimes picking which one is best for you might be a little hazy. With 57 fully registered and functioning insurance companies in Nigeria, making that choice is no comfortable fit. In this article, we narrow it down for you with an expose on one of the best insurance providers in Nigeria. Here's all about African Alliance Insurance.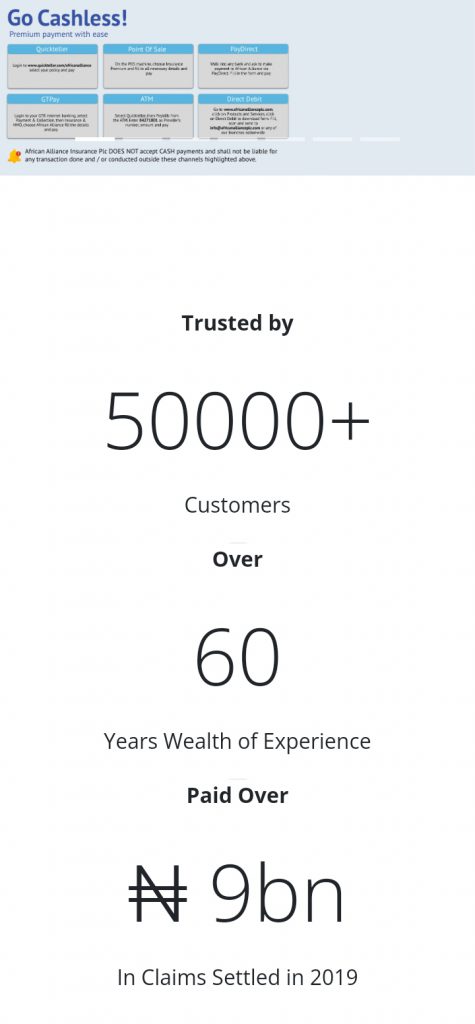 About African Alliance Insurance Plc
African Alliance Insurance Plc is one of the most experienced companies offering insurance in Nigeria in the life assurance niche in the Nigerian insurance industry.
The company provides insurance products specialised and customised for their customers and their lives.
AAI started as African Alliance Insurance Limited before becoming a public liability company. Operations began when the company was founded and incorporated on the 6th of May, 1960 by Chief S.L. Edu (CON), Mr T. A. Braithwaite (CON) and Chief M.E.R. Okorodudu. The company received backing from Munich Reinsurance Company, a major shareholder, a significant boost to operations.
Over the years, African Alliance Insurance Plc has placed itself ahead of the pack with innovative products and an ever adaptive system that is beneficial to all under the AAI umbrella.
From customers, employees to shareholders and partners. The goal of AAI has always been to provide premium value.
African Alliance Insurance Plc as earlier mentioned one of the highest performing insurance companies in the country, with a shareholders' fund evaluated at about N3.6 billion, assets valued at N41.35 billion and a gross income of N13.42 billion as at 2016.
AAI is also diversified in operations, possessing a total equity share in the cargo airline Industry through Axiom Air and in the fast food and catering industry through Frenchies Foods, as well as a 96% stake in Ghana Life Insurance.
Management team structure
A team manages AAI with extensive experience in the industry. The Managing Director leads the team.
Other notable members on the board are Finance officer, the General Manager, Business Development and a host of others. 
What products does AAI provide?
AAI specialises in the provision of personalised insurance products, namely under the categories of Protection (Term Assurance and Group Life) and Savings and Investments Products.
AAI also provided mortgage protection plans, children education plans and retirement plans.
How to process claims at AAI
AAI settles its customers' claims as quickly as possible. All you need to do is either visit their offices or send a request through their official email. So long as all required documents are presented, the claim is as good as settled.
Ways to reach the – customer service and operational branches
AAI is headquartered at 54 Awolowo Road, Ikoyi, Lagos and operates 18 branches. You can visit and walk into any of these offices.
You can also reach them via email, or through their care lines. Managed by an excellent customer care service team.
Conclusion
African Alliance Insurance Plc is one of the best insurance companies in Nigeria out there, basing their operations on offering nothing but value.
They have the most compelling claim settlement policies in the country, paying an estimated amount of N6.5 billion and N9 billion in claims in 2016 and 2019, respectively. Should you be looking for an excellent insurance policy, AAI should be a top pick.