Trustfund is an organization licensed by the National Pension Commission of Nigeria to be a pension fund administrator. Although we all hope to work for as long as possible to earn as much as we can, retirement is inevitable. Therefore, this stresses the importance of pension as it is the sum saved up during your working days against retirement. However, stockpiling pension isn't enough, as you also need a good pension fund manager, which is where Trustfund Pension comes in.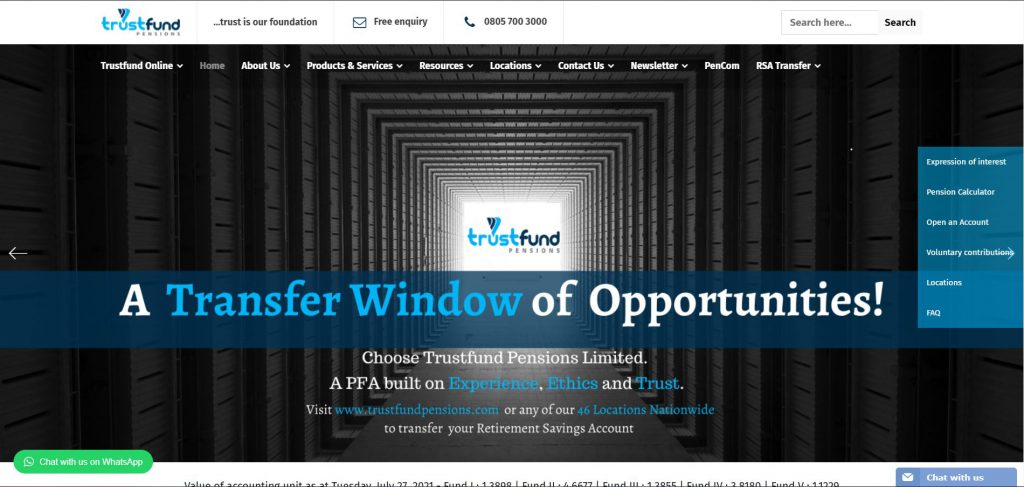 An overview of Trustfund Pension
Trustfund pension limited or commonly known as simply "trustfund", is an organization that focuses on the management and administration of retirement savings (pension funds). However, the organization also actively seeks to improve the net worth of clients through investments that allow them to sustain a quality lifestyle after retirement. Also, in their words; "trust funds deliver world-class, innovative and quality pension management services using technology-enabled channels and highly skilled professionals".
What services does Trustfund pension offer?
Basically, along with pension savings administration, trustfund pension offers the following:
1. Cross border pension plan
Trustfund designed the cross-border pension plan is designed for Nigerians living abroad and expatriate employees in companies registered in Nigeria. Basically, it allows them to participate in the contribution pension scheme (CPS) with favourable set rules and procedures. Also, the cross border plan is consistent with the provisions of the Pension Reform Act, 2014.
2. Voluntary contribution
Voluntary contribution differs from the pension rule in that you are allowed to add more money to your mandatory pension contributions. Basically, it is the open-ended offer that allows you to increase your pension contribution, which they deduct from your salary. They would pay in the extra some to your retirement savings account along with your mandatory pension. Also, note that they deduct this sum before tax, therefore, reducing your overall tax liability.
3. Investment news
Basically, investment news services are analysis done by Trustfund pension on the market on a monthly basis. Therefore, this usually covers the global market, Nigerian macro, equity, fixed income market, and market outlook and strategy. In addition, it is published on trustfund's official website every month and accessible by the public.
Other services offered by Trust fund pension include:
Fund administration
RSA fund
Retiree fund
Multi fund structure
Benefit payment type
How do I open a Retirement Saving Account with Trustfund pension?
Opening an RSA account with trustfund is pretty simple, as you only have to follow the steps below:
Log in to their official website for enrollment at https://services.trustfundpensions.com/enrollment/
Fill the form and provide all necessary documentation
Finally, an agent would alert you after successfully creating an account
How do I make Trustfund pension my fund administrator?
Follow the steps below to make Trustfund pension your fund administrator:
Download and fill the RSA opening form here http://trustfundpensions.com/wp-content/uploads/2019/06/rsaform.pdf
Proceed to submit it at any trustfund pension office nearby (check out the nearest location near you here)
Finally, inform your employer about your intention to transfer your PFA rights to trustfund pension and provide them with the name and PIN.
Trustfund mobile application
Trust fund mobile application is an easy app that the organization designed to help customers manage their savings easier. Basically, the app allows quick access to your retirement savings information and also provides useful information to help with your planning. Also, it is both available on the Apple store and Google play store for download.
How do I contact Trustfund pension?
You can contact trustfund pension through any of the following means:
Address
Plot 820/821, Labour House, Central Area.
Abuja, Nigeria.
Phone
0805 700 3000,
0806 977 8760,
094 628 400
Email
enquiries@trustfundpensions.com
Conclusion
Trustfund pension remains one of the most popular and efficient PFAs in Nigeria. Therefore, you can trust them to manage your funds with insights into investments that would see your money grow too. As a plus, they also have provisions for Nigerians in diaspora and expatriates too.
Need a loan? Check out this amazing platform that allows you to compare loans from different lenders in minutes. With this, you cannot go wrong in making the best decision peculiar to your situation.