Background on NEM insurance
NEM INSURANCE PLC is one of the pioneer insurance companies in Nigeria. It started in 1948 through the agency of Edward Turner & Co and eventually became a Nigerian branch of NEM General Insurance Association Limited of London in 1965. Due to the privatisation policy by the Federal government, the company became quoted on the Nigerian Stock Exchange. They eventually merged with Vigilant Insurance Company Ltd in 2007, following the recapitalisation exercise.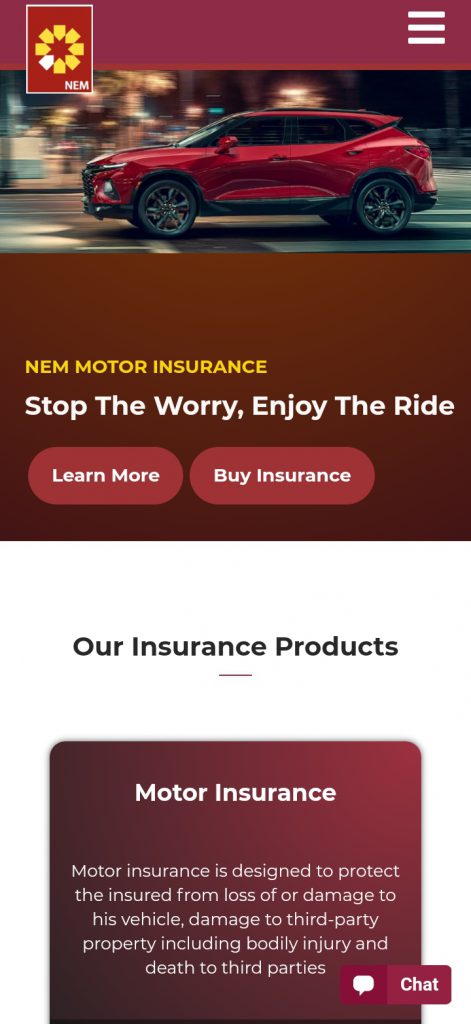 Ever since its establishment, NEM Insurance PLC has contributed immensely towards the growth of the Insurance sector in Nigeria and uphold their promise of adding value to the interest of their stakeholders. It has expanded its operations across West Africa with the successful commencement of its subsidiary, NEM Asset Management became part of the Brand in March 2016. They further added an affiliate company in the same year, known as REGENCY NEM INSURANCE (GHANA) LIMITED.
Nem Insurance plc offers motor third party and comprehensive insurance packages for automobile owners to guard the insurer against unforeseen events.
NEM Insurance Products – Classes Of Insurance They Operate In
Their insurance products fall into three categories: into Corporate, personal and SME products.
Corporate Insurance products
These are insurance policies used by organisations to guard against operational risks such as financial loss, employees health, accidents, or even theft. Every organisation needs to keep the business running swiftly.
These policies, however, do have limits, and the insurer is held responsible for any other liability which the insurance product doesn't cover.
The insurance products available in this category include
Motor Insurance
Marine Insurance
Aviation Insurance
Oil And Gas
Computer And Electronics Policy
Fidelity Guarantee
Group Personal Accident
Personal Insurance products
These insurance products protect your items such as your car, home, or the activities you engage in, such as travel.
The insurance products available in this category include
Goods In Transit
Fire And Special Perils Insurance
Motor Insurance
Home Protection
Enhanced Motor Third Party
SME Insurance products
While most large companies insurance coverage relevant to their business needs, small and medium-sized enterprises (SMEs) often lack this. They must have access to SME insurance products to protect themselves from liabilities which may lead to drastic losses.
NEM insurance offers a range of insurance products to SME owners. They include
Burglary Insurance
Product Liability
Fidelity Guarantee
Motor Insurance
Cash In Transit
Group Personal Accident
How to process claims
With a clear understanding of the impact that prompt settlement of claims has on its reputation, NEM Insurance Plc has a straightforward claim procedure.
You can access the claim form on their website, fill in the required details and submit. Once you submit your form, an agent from their organisation will reach out to you.
Their customer service
They pride themselves in their swiftness to respond to claim requests and their ability to uphold their company values. You can quickly contact their customer service team or provide your feedback through their online form. NEM also has a whistleblowing policy as they are committed to being transparent and holding each other accountable. This policy enables stakeholders and members of the staff to voice their concerns in a responsible manner and following the whistleblowing policy.
Operational branches
They have several branches and retail outlets across the country.
NEM Insurance Plc continues to strategically position itself to continuously deliver value to its customers and maintain its reputation as a top insurance company in Nigeria.