Consolidated Hallmark Insurance (formerly known as Consolidated Risk Insurance Plc) is a leading insurance company.
The company was incorporated on August 2, 1991. It started trading on the Nigerian stock exchange on February 22, 1998. However, the company name changed after a significant merger with Hallmark Assurance Plc and the Nigerian General Insurance company. CHI came into effect on March 1, 2007.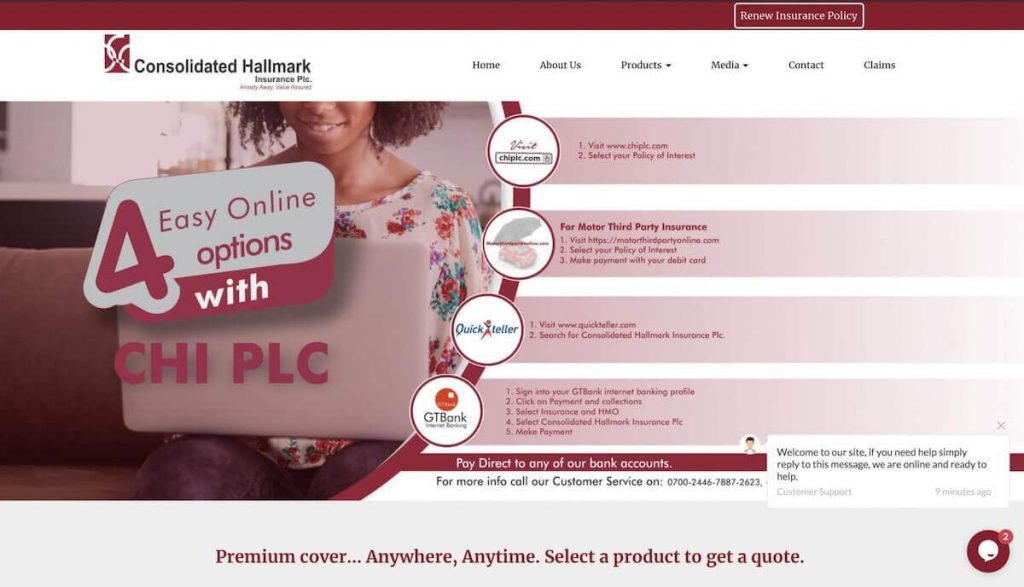 Classes of Consolidated Hallmark Insurance's Policies
Consolidated Hallmark Insurance offers a wide variety of insurance policies, which include:
1. All Risks Insurance
This insurance class covers your assets such as phones, jewellery, accessories, etc. With this policy, you cover your assets from theft and damages from anywhere in the country
2. Burglary Insurance
This policy covers the contents of your building in the event of a break-in or robbery. However, the policy can be modified to include pilferage and theft of personal property.
3. Goods in Transit
With this insurance policy, you cover your assets from loss and damages caused by collision, fire, or theft while in transit. The policy accepts all types of products except delicate goods such as glass.
4. Home Insurance
Furthermore, the Consolidated Hallmark Insurance Home Insurance policy covers you from any loss or damage caused to your residential building in the event of theft, fire, and other extraneous perils like earthquakes, riots, floods, etc. This "all-risk" cover includes household goods as well as personal effects like jewellery, watches, etc.
5. Motor Third Party
Basically, for a minimum amount, this cover protects you from any accidental damage by your vehicle to someone else's car or property.
6. Motor Comprehensive Insurance
This is broader than the third-party policy. This covers any damage to your car, including fire, theft, etc.
7. Personal Accident
In the event of a fall, burn, or any other personal accident, this policy provides you with a backup. The plan will cover medical bills you may incur as a result of the accident. You are also entitled to a disability settlement. This means you will receive an agreed sum if you have an accident that leads to permanent disability. This is especially useful for people whose line of work involves operating industrial machinery or working from tall heights.
8. Travel Insurance
This covers you from risks that occur outside your country of residence. Therefore, these include loss of baggage, incurred medical expenses, and emergencies like a return for a family burial. Also, you can upgrade to include "Winter sports" which means you are covered for a vacation and exploring new places.
9. Aviation
Particularly useful for airline contractors, Aviation insurance offers coverage for hull losses, passenger injuries, and loss or damage to the aircraft itself.
10. Bonds Insurance
The Bonds Insurance policy which has various categories secures your investments and contracts. The types of this policy are Tender bonds, Performance bonds, and Advance Payment bonds
11. Consequential Loss
Basically, this insurance offers additional coverage for your business in the event of a disaster. Indirect risks like net profits, staff salaries, auditor's fees are all taken care of by the policy.
12. Contractor's All Risk
This is an "All risk" policy that covers any loss or damage to constructed works (Permanent or Temporary) and the materials used in the construction of said works, e.g. Machinery, Construction Equipment, and Plants.
13. Machinery Breakdown
This insurance protects you in the event of damage or breakdown of machinery, which may be due to high voltage or power spikes.
14. Maritime Insurance
This policy covers Maritime risks which occur during the importation of goods. These risks include water, fire damage, and unexplained disappearance.
15. Money Insurance
Money insurance indemnifies the beneficiary against loss of money that may have occurred due to theft.
16. Plant All Risk
Basically, the Plant All risk policy offers cover against sudden and unforeseen loss and damage to machinery from causes like fire, lightning, storm, explosions, etc.
17. Professional Indemnity
Professional indemnity insurance is a kind of policy that indemnifies your professional practice from allegations of malpractice or professional misconduct. This policy is for professionals such as Doctors, Lawyers, Engineers, etc.
How to Process Your Insurance Claim With CHI
Processing your insurance claim in the event of an incident is a relatively simple process. To process a request, simply login to your policy and fill out the claim form depending on your policy.
After this, you will be provided with a claim reference number and informed when to expect a call from your claim representative. (Customer service)
Bottom line
Consolidated Hallmark Insurance has 12 operational branches in various regions across the country and you can reach out to any to access these services. Also, they remain one of the best in the business with a large customer database to show for it.
Also, read about the brief History of Insurance in Nigeria.
Do you need a loan? Be sure to visit this loan platform that allows you to compare loans from different lenders in minutes. It offers the best and ensures that you get nothing less.