Founded in 1958, Wapic Insurance Plc is a leading West African insurance company. The company offers a diverse range of insurance products and services. They cover life, general and unique risks. They are also licensed to underwrite all classes of insurance such as goods-in-transit, fire and special perils, all risk insurance etc.
Over the last fifty years, Wapic has gathered experience in risk management, underwriting and assisting individuals and corporate entities with various types of cover.
Wapic currently operates through its subsidiaries; Wapic Life Assurance Limited which operates in Nigeria and Wapic Insurance Limited in Ghana. To bolster their ongoing repositioning and restructuring initiative, they merged with Intercontinental Properties Limited which has dramatically enhanced their underwriting capacities.
This insurance company has also been on the Nigerian Stock Exchange since 1990. It is among the top five insurance companies in Nigeria.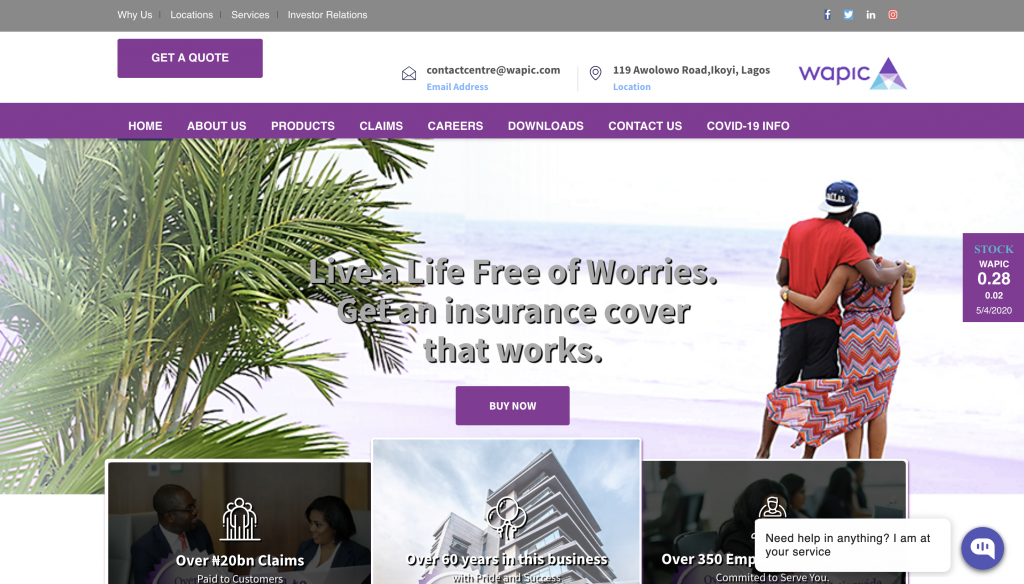 Wapic Insurance Products
The company's insurance products fall into Life, General and Investment categories
1. Life Insurance
This insurance package covers
Mortgage Protection: Provides indemnity to a lender in case of the borrower's death. It also eliminates the burden of loan repayment from the bereaved. You can refer to this post to learn about professional indemnity insurance.
Keyman Assurance: Allows organizations to insure their key personnel for business continuity.
Multiprotection Plan: This plan protects loved ones in the event of the death of the policyholder. It also covers financial loss by the policyholder during permanent disability and payment of medical expenses.
Term Life Assurance: Protects the livelihood of the insured's dependents in the event of his/her death within the period of the cover.
Whole Life Assurance: Comes in two forms; whole ordinary life and limited premium payment whole life. Both cover the assured for the whole of his/her life.
2. General Insurance
This insurance package covers
Travel Insurance: Covers risks associated with travelling out of your country temporarily.
Motor Insurance: Covers damages on your car, including other people's vehicles and property.
Marine Insurance: Provides indemnity for loss or damages to imported goods transported by air or sea.
Home Owners: It covers damages caused by flood or fire to buildings and also covers injuries to visitors on the properties.
3. Investment Insurance
This insurance package covers
The Smart Life Plan: This provides you with the opportunity to save towards specific goals with an embedded insurance cover.
Smart Life+: This plan allows you to save towards short term obligations and emergencies while giving you a free life cover
The Smart Senior Plan: This provides you with an opportunity to save funds towards retirement with an embedded insurance cover.
Smart Scholar: This provides you with the opportunity to save funds towards financing your child's education.
The Smart Wealth Plan: This provides you with the chance of investment and embedded insurance protection against the risks of death. Although the deduction of the premium occurs within the period of investment, the insurance cover is for life.
How Insurance Wapic Insurance Processes Claims
An insurance claim is a payment made by an Insurance company to the insured in the event of a loss. It is a formal request made by a policyholder to the insurer for compensation or coverage for a covered loss.
In many cases, a third-party file for claims on behalf of the insured as the insurance claims ranges from death benefits on life insurance policies to routine and comprehensive medical checkups.
To make a claim on Wapic insurance, you can either visit the claims portal on their website or refer to the policy documents given to you for guidance on the process and requirement.
The Wapic insurance contact centre is open from 8 am-5 pm weekly. It is a customer interaction centre equipped to provide information and assistance with your product requirements which include account management, balance enquiry for Life Accounts, E-Insurance, Feedback and Concerns.
They have a head office at Ikoyi, Lagos. Their other operational branches are in Port Harcourt, Kano, Ibadan, Abuja and Enugu.
Conclusion
Wapic is an insurance company that seeks to protect all forms of insurable risks to its customers. Their variety of products makes insurance easier with an incentive of free life cover depending on the package you choose.