Estimated reading time: 8 minutes
We're guessing what's coming to mind: "Nah, this headline is cliche. Top 10 Engineering Companies in Nigeria?
How do they even measure excellence? Besides, there are a number of companies in Nigeria that deliver different construction and engineering services; so get your wits together".
We wholeheartedly relate with these pain points, except for putting our wits together, of course.
The Engineering Industry covers a broad spectrum of disciplines that we may not explore in this article. Civil Engineering? Mechanical Engineering? Metallurgical Engineering? Environmental Engineering? Petroleum Engineering? The list is pretty endless.
There are still more areas to explore in the Engineering discipline in Nigeria. Particularly concerning the workforce, academia, and some other business ideas in the area of engineering.
It is in this light therefore that we have streamlined our discourse to Civil Engineering and Petroleum Engineering. While the former appeals to the Construction Industry, the latter resonates with Oil and Gas.

Here's why: If you do the math, you'd agree that the chunk of our daily discourse and sensibilities as Nigerians, revolve basically around these two: Oil and Gas and Construction; and additionally, Electrical Engineering.
In no particular order, we have curated a list of "best" indigenous and foreign construction companies in Nigeria.
Our selection of "best" spawns around timely delivery of projects and efficiency, executed by the companies which we shall subsequently examine.
List of Construction Companies in Lagos, Nigeria
Children unborn can testify to the expertise and dominance of the 'Julius Berger' brand in Nigeria.
Shall we cast a glance on their major projects? The International Airport, Abuja; The Akwa Ibom Stadium Complex; The Lekki-Ikoyi Link Bridge? The Third Mainland Bridge; Lagos? Eko Bridge? You sure bet Julius Berger had its imprints on them.
They have been a key player in the Nigerian Construction space since the 90s and have set consistent benchmarks for other companies to follow.
With its headquarters in Switzerland, RCC first appeared in Nigeria in 1956. An outstanding project executed by Reynolds Construction Company is the prestigious Obafemi Awolowo University [formerly referred to as the University of Ife].

They have also constructed the South African Embassy, Abuja; the $32m Calabar-Ikom road project and others.
With a specialty in the construction of bridges and roads, Setraco Nigeria has a presence in over 15 Nigerian states.
SETRACO wields over 35 years of working experience in the Nigerian construction space. The magnificent Bomadi Bridge, Delta; The Alape Bridge in Ondo; The dualization of the Abuja-Keffi Road; are some of their projects.
4. CHINA CIVIL ENGINEERING CONSTRUCTION CORPORATION [CCECC]
With its headquarters in China, This is one of the Chinese construction companies in Nigeria. CCECC has been among the world's top 100 international contractors for 17 consecutive years. It has branches in over 50 countries and regions, including Africa, Asia, America, Europe, and Oceania.
CCECC has also taken on projects in the Railway Industry. It is a subsidiary of the China Railway Construction Corporation.
You May Also Like: Engineering Insurance and the Different Scopes
5. COSTAIN WEST AFRICA
Costain West Africa is the first civil engineering and building construction companies in Nigeria to be on the Nigerian Stock Exchange. It is one of the oldest civil engineering and building engineering companies in Nigeria.
Major projects include the 140-meter high NECOM house, The University College Teaching Hospital, Ibadan; Ahmadu Bello Stadium, Kaduna; Central Bank, Enugu; Flour Mills of Nigeria; Apapa Factory and others.
6. ADOLD ENGINEERING COMPANY LIMITED
Since its inception, Adold Engineering has successfully completed over 250 projects in the span of 30 years. They have undertaken projects like The Construction of Virgin Atlantic Head Office; Construction of Area Office for Chartered Bank; Residential Development for Central Bank of Nigeria; Construction of 530-bed hostel at Ajayi Crowther University and others.

They have also partnered on other building projects with clients like Shell Petroleum, Texaco, Chevron, ARM, Landmark University, First Bank PLC and a host of others.
7. ARAB CONTRACTORS
These guys are arguably one of the leading civil engineering firms in Africa and the Middle East. Like CCECC and Julius Berger, they have a widely-acclaimed international prominence.
With its headquarters in Egypt, Arab Contractors are notable for the construction of airports, dams, bridges, sports buildings, power stations, hospitals, and sewage plants; to mention but a few. 
A notable domestic project includes the reconstruction of the Owerri-Ewele road. 
8. ARBICO PLC
Arbico is a full service, building and civil engineering contracting company, established in 1958 and quoted on the Nigerian Stock Exchange since 1978.
The company offers services such as pre-construction and estimating, design, build, and project management as well as engineering, procurement, and construction services. It is located at Plot D, Block 7 Industrial St, Ilupeju, Lagos.
9. DANTATA AND SAWOE CONSTRUCTION COMPANY [NIGERIA] LIMITED
This is one of the Nigerian construction companies that prides itself on being one of the most reliable in the industry. With over 35 years of expertise, Dantata and Sawoe have managed projects such as the Benue State Government House, Makurdi; Edo State Liaison Office, Abuja; International Broadcasting Center, DAAR Communications, Abuja, and others.
10. BRUNELLI CONSTRUCTION COMPANY
Incorporated in 1972, the construction company specializes in constructing jetties and drainages, plant projects, diaphragm wall installation and a host of others. It's an international construction company with its headquarters in Milan; Italy. Other than Nigeria and Italy, they have an operational base in Zambia, Africa.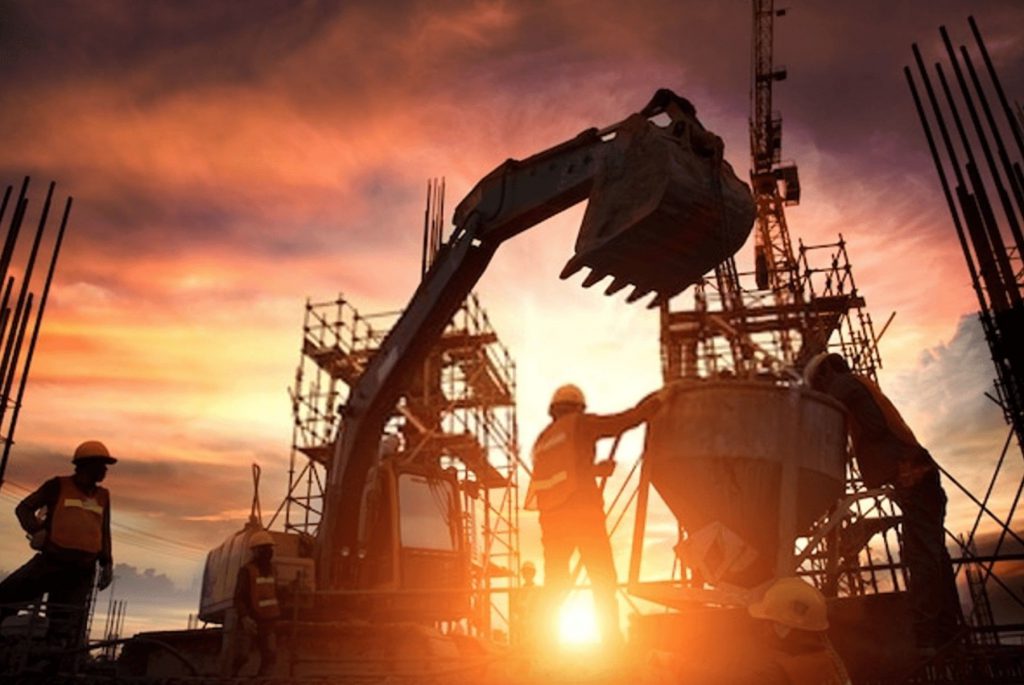 Top 10 Companies in Petroleum Engineering [Oil and Gas; Nigeria]:
Some sources claim Exxon Mobil is arguably the best oil company in the world, and this; is not far from reality. Exxon Mobil is the largest descendant of John Rockefeller's 'Standard Oil'. Incorporated in Texas, ExxonMobil is one of the world's largest companies by revenue.
Exxon Mobil is also is into the exploration and production of crude and natural gas.
This is one of the largest producers of oil in Nigeria and one of its largest investors.
Like Exxon Mobil, it is one of the descendants of Standard Oil. With its headquarters in California, Chevron has operations in over 180 countries.
In 2018, Chevron's net daily production in Nigeria averaged 194,000 barrels of crude oil and 233 million cubic feet of natural gas.
This company has its headquarters in the Netherlands and incorporated in the United Kingdom. Shell Nigeria Gas is the country's first and wholly-owned subsidiary of an international oil company involved in domestic gas distribution in Nigeria.

In the 2019 Forbes Global 2000 ranked Shell as the ninth-largest company in the world and the most significant energy company. Moreover, it is the third-largest company in the world by 2018 revenues.
4. STATOIL
STATOIL is the most prominent Norwegian oil company in the world and has been around in Nigeria since the 1990s. They deal with the Agbani oil field exploration project in the Niger Delta.
In 2013, Forbes Magazine named Statoil the world's eleventh most significant oil and gas company.
5. TOTAL
Total is a French multinational oil and gas company. With over 60 years of operation in Nigeria, Total Nigeria has about 580 service stations in the country. Its businesses cover the entire oil and gas chain; from crude oil and natural gas exploration and production to power generation, transportation, refining and the like.
You May Also Like: Oil and Gas Insurance: Everything You Need To Know
6. AGIP
The oil and gas company is one of the largest in Nigeria. It is in joint partnership with NNPC, NAOC, and Oando. While NNPC owns 60% of the corporation, NAOC owns 20% and Oando owns 20%. AGIP operates formally Nigerian Agip Oil Company [NAOC].
7. TEXACO
As an American oil subsidiary of Chevron Corporation, Texaco commenced operations in Nigeria in 1961. The company was independent until its refining operations merged into Chevron Corporation in 2001. Before the merger, Texaco operated under the name to American Overseas Petroleum Ltd.
They first discovered oil at the Koluama Field; offshore Nigeria. Reports have it that this venture produces about 60,000 barrels of oil daily.
8. ADDAX
Addax Petroleum is one of the largest oil and gas producers in China; the biggest oil refiner in Asia and the largest worldwide. The petroleum company has had quite a history with the Federal Republic of Nigeria; this dates far back as 1998.
Addax Petroleum works with well over 100 wells in Nigeria, and its net worth is over 17 million pounds.
9. NEXEN PETROLEUM NIGERIA LIMITED
Founded initially as CNOOC Petroleum North America ULC, Nexen is a Chinese-owned oil and gas company. Its most prominent projects in Africa are Nigerian offshore projects. It has a 45% working interest in the OML 130 deepwater located off the coast of Port Harcourt. By and large, Nexen Petroleum embarks on deepwater exploration in Nigeria.
10. PETROBRAS
Petrobras is a Brazilian multinational corporation in the petroleum industry. Like its competitors, it focuses on oil, gas and alternative sources. Since it arrived in Nigeria in 1998, there has been an intensification in the exploration and production of oil activities in Nigeria.
CONCLUSION
We hope you enjoyed our review of the Top Engineering Companies in Nigeria. There are a number of other key players in the Petroleum Engineering industry. Some of these include Hardy Oil and Gas, Nigerian National Petroleum Corporation [NNPC] and others.

For the Construction Industry in Nigeria however, others include El-Alan Construction Company, Apave Nigeria, G Cappa PLC, Mixta Nigeria, NetConstruct, Monier Construction Company and a host of others.