When talking about Insurance companies that have really done well in the finance world, one must not skip Sovereign Trust Insurance.
Starting business in 1995, Sovereign Trust Insurance is one of the foremost Insurance companies in Nigeria.
With branches all Nationwide, the company offers insurance and risk management services with the objective of being a highly professional organisation that provides unique risk management services as well as improved claims settlement procedure.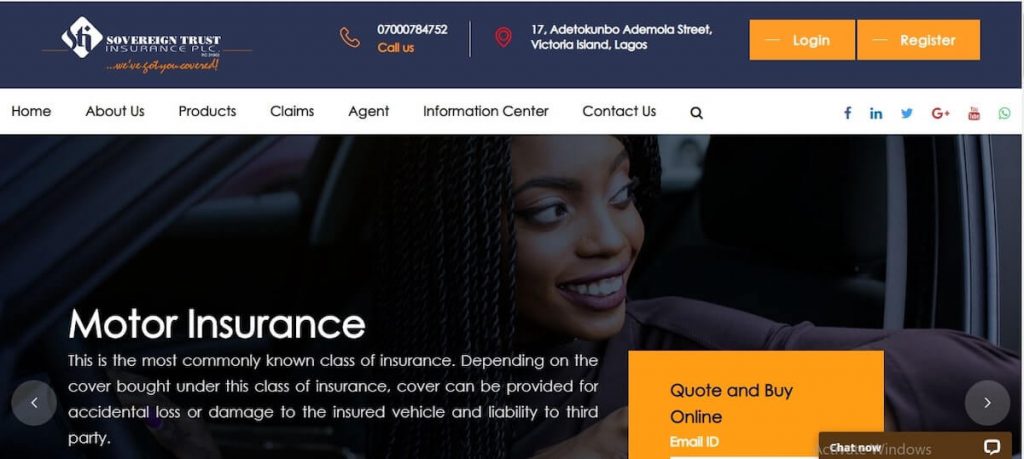 Sovereign Trust Insurance Management Structure
The Management of Sovereign Trust Insurance Plc consists of individuals with impressive track records of professional and business achievements. The structure of the company has as its head a Managing Director, also the CEO.
The CEO is assisted with two Executive Directors where one is for technicals and the other, marketing.
Also, the Management board has the General Manager who is the divisional Head of Finance and Administration.
Besides that, there is also the Deputy General manager in charge of risk management and compliance.
However, the Management board will not be complete if we fail to mention the Thirteen Assistant General Managers that are the heads of other sub-departments.
Products Offered by Sovereign Trust Insurance
The Sovereign Trust Insurance company as earlier mentioned is an insurance company that offers a wide range of insurance services tailored to meet the specific needs of company's clients.
The services they offer include:
Family wellbeing insurance.
Oil and Gas insurance.
Easy travel insurance cover.
All risk insurance.
Aviation insurance.
Burglary House Breaking Insurance.
Healthcare indemnity insurance.
Consequential loss insurance.
Claims Processing With Sovereign Trust 
The company has outlined the way in which customers can process claims. They advise that customers willing to process claims should visit the company's website and fill out the necessary information on the claims form.
Therefore, to allow a smooth and prompt processing of your claim, the following documents would be required for THIRD-PARTY:
A completed Claim Form.
A copy of a valid Vehicle License.
Pictures of the damaged vehicle.
Estimate of repairs from a garage/ vehicle workshop.
In the case where a Third Party is involved, it is required that a letter of acceptance of liability from the Third Party/ Third Party Insurance Certificate/ Police Report must as well be presented.
For a THEFT-CLAIM, you will provide the company with the following:
Police Report.
Driver's licence.
Purchase Invoice/Receipt.
Original & spare of Ignition Key (if vehicle was stolen in a stationary position).
Original Certificate of Insurance, Road Worthiness, Vehicle Licence, Proof of Ownership.
Letter of Transfer of Ownership to Sovereign Trust Insurance plc (If they later find the vehicle)
As an alternative measure, you can contact their claim team via email at claims@stiplc.com or call 0700-STIPLC. It is furthermore required that all requested documents must be submitted by email to claims@stiplc.com or by post to Sovereign Trust Insurance plc, No 17, Adetokunbo Ademola, Victoria Island, Lagos.
Conclusion
For the fact that insurance companies are out there to ensure you live a better life, one of the foremost Insurance companies in Nigeria has placed you at the centre of their plans.
You can contact Sovereign Trust Insurance company through 07000784752, 017008609 or 17, Adetokunbo Ademola Street, Victoria Island, Lagos, Nigeria. Or info@stiplc.com.