Continental Insurance is a pan-African reinsurance company with over 30 years of high-quality service to customers across different countries.
They provide credible reinsurance and security services to customers and have the vision to be the "premier pan-African reinsurer".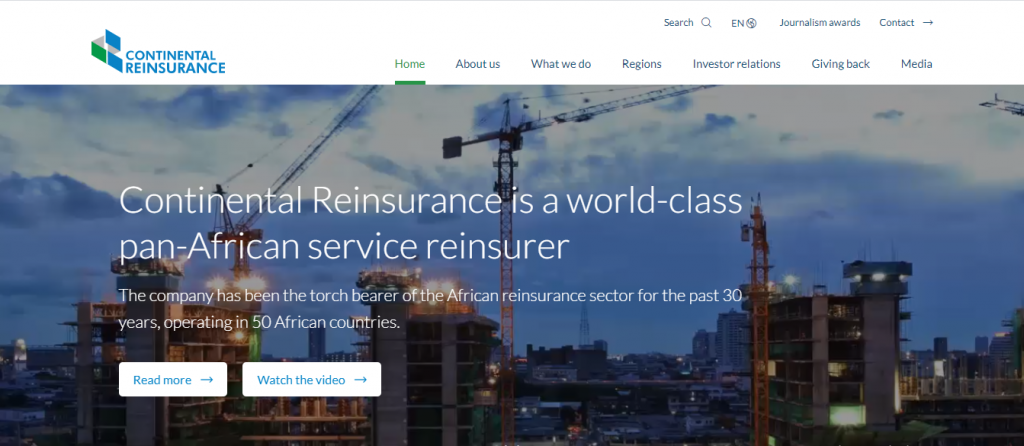 What is the difference between reinsurance and insurance?
Reinsurance is not the same as insurance, and should not be confused for one another. Insurance is a protection against future loss. It is a legally binding promise of reimbursement with a loss of assets resulting from unforeseen hazards. You as a customer keeps this agreement by making prepayments to the insurance company.
Reinsurance is more of a system that shares the risk between different insurance companies. In the practice of reinsurance, the insurers transfer some of their risks to external parties (conditioned on some form of agreement) to ease the financial obligations resulting from an insurance claim.
Where continental reinsurance comes in
Reinsurance has no direct contract binding capacity with the public and can be said to be the insurance of an insurance company. This is exactly what continental reinsurance does.
A quick look into Continental Reinsurance
Continental reinsurance has been in operation for over 30 years. In this time, they have established values and structures that have helped them become pioneers and innovators in the industry.
They have branches across several countries in Africa including Nigeria, Tunisia, Cote d'Ivoire, Cameroon, and subsidiaries in Botswana and Kenya.
Outside South Africa, Continental reinsurance remains the largest private pan-African reinsurance company.
What services does Continental Reinsurance offer?
Although Continental reinsurance has service centers in 6 different countries, they write for businesses across more than 50 African countries in total. The services they offer include; treaty and facultative capacities across a wide range of insurance lines.
Continental Reinsurance offers the following services at the various underwriting limits:
1) Marine and aviation
· Proportional Treaty – USD 5 million
· Non proportional Treaty – USD 2 million
· Aviation – USD 5m
· Facultative – 5 million
2) Motor Liability and General Accident
Proportional Treaty – USD 2 million
Non Proportional Treaty – USD 2 million
Facultative (Anyone Risk) – USD 4 million
3) Oil and energy
Political Violence and Terrorism – USD 10 million
Treaty Capacity Per Risk – USD 40 million
4) Fire and engineering
Property Treaty – USD 5 million
Non Proportional Treaty – USD 2million
Facultative (Anyone Risk) Fire – 35 million
Facultative (Anyone Risk) Engineering – USD 40 million
5) Individual and Group life
Treaty Capacity Per Anyone Life – USD 1.3 million
Facultative Capacity Per Anyone Life – USD 3.3 million
Asides reinsurance services, continental reinsurance also provides specialist consultations like:
· Actuarial and Risk Management.
· Product development and support.
· Reinsurance structuring.
Also, Continental reinsurance established another subsidiary back in 2015. This was to meet the growing demand for specialists in risk advising services for the engineering industry.
This subsidiary called Continental Property and Engineering Risk Services (CPERS) Limited and based in South Africa. The services they offer are:
· Risk surveys.
· Claims handling.
· Underwriting.
· Training programs for the insurance sector.
How to contact Continental Reinsurance?
You can contact them by visiting any of their physical offices in your area, sending an email, or calling their official line. Here is their contact information in details:
Continental Reinsurance Plc.
St. Nicholas House, 8th Floor, 6 Catholic Mission Street. P.O. Box 2401
Lagos, Nigeria.
Tel: +234 1 4622779, 8732624 or +234 1 0700REINSURE,
Email: info@continental-re.com
You can also make media inquire by contacting their team at +254 20 2429392/3 or +254 733780 420 or through email – embera@continental-re.com.
Conclusion
As the largest private pan-African reinsurance company outside South Africa, its reputation speaks for itself.
They offer guaranteed reinsuring services across all areas of non-life and life business lines and provide quick access to reinsurance underwriting claims.
You can trust their services to have you covered any day, anytime.