The ever-growing nature of the insurance industry in Nigeria means that the sector has to be regulated by some form of body. Essentially, there is no sector that does not have this kind of regulation. Naicom is the controlling and regulating body for insurance in Nigeria and is to oversee the operations of all insurance companies in the country.
In this article, we would break down Naicom to explicitly state their functions and every other thing that you need to know.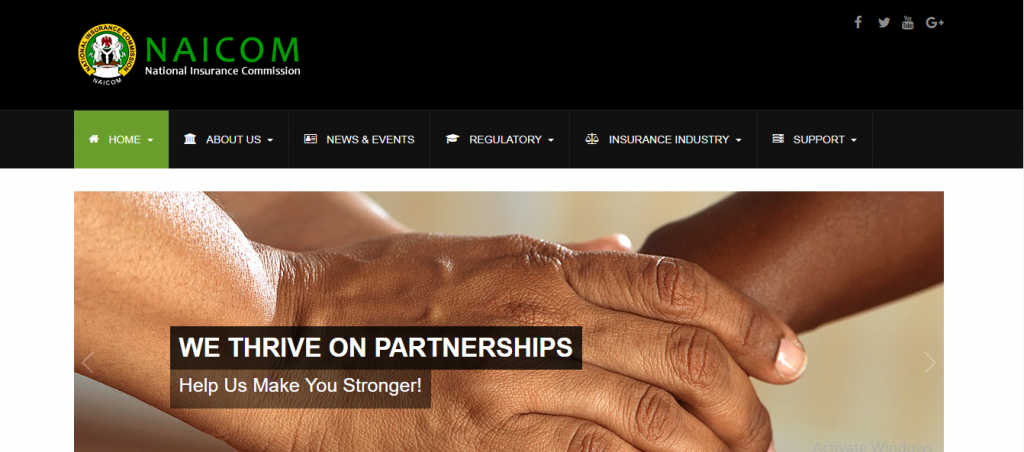 About Naicom
The National Insurance Commission (NAICOM) is a body that was put in place for the overall supervision of insurance contracts.
This includes the regulation, supervision, administration, and control of insurance businesses in Nigeria. Naicom is tasked with protecting insurance policyholders, beneficiaries, and third-party personnel involved.
Insurance is a very large sector of the economy of Nigeria, which is why it needs to be put in check. Naicom was established and some of its mandates are:
The mandate of the Commission as specified in the enabling law (NAICOM Act 1997) is to discharge the following functions:
To establish standards for the conduct of insurance business in Nigeria;
To approve rates of insurance premiums to be paid regarding all classes of insurance business;
Ensure adequate protection of strategic Government assets and other properties;
Regulate transactions between insurers and reinsurers in Nigeria and those outside Nigeria;
Act as an adviser to the Federal Government on all insurance-related matters;
Approves standards, conditions, and warranties applicable to all classes of insurance business;
Protect insurance policyholders, beneficiaries, and third parties to insurance contracts;
Publish for sale and distribution to the annual public reports and statistics of the insurance industry;
Liaise with and advise Federal Ministries, Extra Ministerial Departments, statutory bodies, and other Government Agencies on all matters relating to insurance in any technical agreements to which Nigeria is a signatory;
Contribute to the educational programs of the Chartered Insurance Institute of Nigeria and West African Insurance Institute; and
Carry out other such activities connected or incidental to its other functions under the Act
Naicom Management team structure
Naicom is led by a management team which is headed by the commissioner of insurance. The team comprises highly experienced individuals with decades of experience in the insurance industry. Its members are:
Commissioner for insurance
A representative from the minister of finance
CIIN representative
A chairman
Three other neutral members
What products does Naicom offer?
Unlike conventional insurance bodies, Naicom does not provide insurance to individuals. They are rather responsible for regulating all other insurance companies in the country. As regarding regulatory, Naicom provides a guide through the following ways:
Laws
Insurance Act 2003
Naicom Act 1997
Regulations
Regulatory priority update on the statement of regulatory priorities
Broker's re-registration requirements
Guidelines
Approved bancassurance guidelines 2017
Approved takaful guidelines
Microinsurance guidelines 2018
Circulars
Publications
Directives
Market conduct
Registration
To know more about Naicom regulatory functions, you can visit their official website at www.naicom.gov.ng. The website contains a list of all the approved insurance companies in the country. It also includes other details like the list of licensed brokers, licensed loss adjusters, and licensed agents.
How can I contact Naicom?
You can contact Naicom through any of the following means.
Headquarters Address: Plot 1239, Ladoke Akintola Boulevard, Garki II Abuja.
Kano Zonal Office: No 162, Farm Centre Road, Kano State
Port-Harcourt Zonal Office: No 23 Onne Road, G.R.A Phase 2 Via Airtel Office Port-harcourt Rivers State.
Lagos Office: NIC Alagbon Street, Off Ikoyi road, P.M.B 80144, Victoria Island, Lagos.
Enugu Office: C1 Presidential Road, P.O Box 2304, Enugu Enugu State
Email: contact@naicom.gov.ng
You can also directly send a message to Naicom through the contact us tab on their official website. To do, follow the steps below:
Visit their official website
Click the menu option and select contact us
Fill up all the requested details in the dialog box, and include your message, then send.
Naicom would reach out to you.
Conclusion
With Naicom, insurance companies in the country have a body that they answer to. The body primarily protects the rights of the insured as well as other third parties involved. You can also direct complaints to them directly in a situation of being exploited by insurance companies.