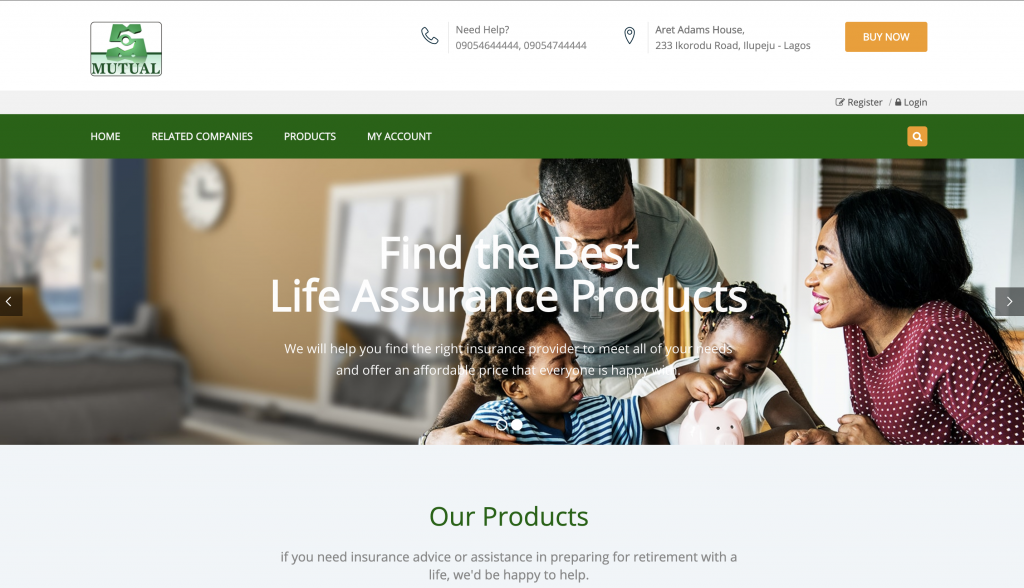 Mutual Benefits Assurance Plc is an insurance company that offers marine, motor, travel. Fire, aviation and mutual term insurance.
It is a conglomerate consisting of value-adding companies. These companies have diverse interests in various sectors of the Nigerian economy through strategic alliances, partnerships and investments.
They began operations in 2003 under the business unit of Mutual Benefits Assurance, and have three subsidiaries – Mutual Benefits Microfinance Bank and two offshore companies – Mutual Benefits Assurance Niger SA (MBA Niger) and Mutual Benefits Assurance Company, Liberia.
The company has a robust team of highly trained professionals, a respectable board and access to the International insurance market.
Mutual Benefit Assurance Products
1. Individual Savings & Protection Plan
This income protection plan assists individuals to cultivate the culture of savings while providing for their beneficiaries at demise. The minimum contribution is N60,000 per annum for five years. Interest in contributions is 7.5% although subject to market realities.
2. Anticipated Endowment Plan
This plan is a combination of protection and maturity benefit policy that guarantees payment of your certain sum, whether at maturity or earlier demise. It pays the benefits of the amount assured in the ratio of 25%, 25%, and 50% at equal intervals of the period.
3.Mortgage Protection
This protection policy guarantees the payment of balance outstanding in respect of a mortgage loan taken by an individual under Life Assurance should he die before full repayment of the loan.
4. Mutual Term Assurance
This is the cheapest type of assurance policy. It is purely life insurance with no investment linked to it, and the policy pays the amount assured in the event of the policyholder's death. This payment occurs during a specified period abiding by the terms of the plan.
5. Micro Pension & Investment Plan
This plan is convenient, flexible and ensures adequate provision for future financial needs, including retirement. With as little as N500 regular savings for a minimum duration of 2 years, you can provide financial security for yourself and your family.
6. Whole Life Policy
This type of insurance provides coverage for the insured throughout his/her entire. It has no form of maturity and pays only the agreed benefit to the beneficiary of an assured after the assured demise.
7. Children Education Plan
This insurance product provides payment of accumulated benefits for a named beneficiary's school fees in the event of demise. The minimum contribution is N60,000 annually for a minimum duration of 5 years. Interest on contribution is 7.5% subject to market condition.
8. Keyman
In a company, there is a key employee whose death will have a massive impact on the company. Keyman policy provides cover against the financial loss a company may suffer on the demise of a key employee who is vital to business continuity.
9. Mutual Dignity Plan
This plan is an annually renewable plan that provides funds for funeral expenses. It covers a maximum of eight lives which includes the Insured, the spouse, parents and two other extended families, in the event of their death. It also provides N15,000 to cover airtime expenses associated with funeral arrangements.
9. Personal Pension & Investment Plan
This is a pure investment policy designed to help you provide for your future needs within a short period while securing your loved ones financially.
How to Process a Claim on Mutual Benefit Assurance
To start a claim process on Mutual Benefit Assurance, you have to send a mail with the required documents and relevant claim form to the official email on the website. You can also reach the claims team on these numbers 09054744444 or 09054644444, and they will attend to you.
Their head office is in Ilupeju, Lagos but they also have regional and agency offices nationwide. They also have international operations in the Niger Republic and Liberia.
Purchasing insurance is a necessity because of the security it gives, and Mutual Benefits is an excellent choice because regardless of your income, there is an insurance package just for you.