Having car insurance cover to take care of future damages is a good way to protect yourself from financial loss. Basically, according to the National Bureau of Statistics in 2018 (NBS), out of 11.7million registered cars, only 2.5 million have genuine insurance coverage. This statistic shows that many Nigerians are driving uninsured cars, which is risky especially in cases of theft. Insurance against theft is a thing to know. Compare Insurance is a company that provides a solution for this through their website, which offers you various insurance products from reputable Insurance companies.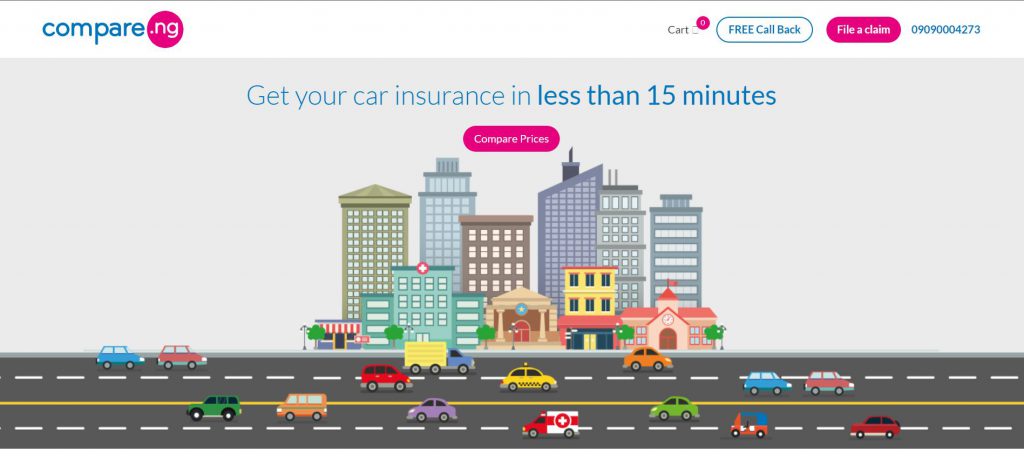 An Overview of Compare Insurance
Compare Insurance is a privately-held online insurance website that specializes in Car Insurance. Basically, the platform offers you various insurance products from a list of controlled Nigerian insurance companies. They tirelessly work at expanding and upgrading their product and services to suit your insurance needs. Basically, the company transforms the Insurance game by providing a website that is user-friendly and easy to navigate.
The platform also simplifies Nigerian insurance policies and the claim acquisition process, making it easy for you to understand. Essentially, the website allows you to choose from a list of various Nigerian insurance companies. They simplify the different insurance policies making it easy to understand so you can pick the most suitable for you.
You can read more about the best insurance companies in Nigeria.
What products does Compare Insurance offer?
Bascially, the website offers various suitable insurance products from reputable Nigerian insurers. The platform gives you benefits like:
1. Price Comparison
The website allows you to compare the prices and features of insurance products. Basically, they offer you a wide range of insurance options. You can compare the prices and pick the best option for you.
2. Flexible Payment
The company allows you to pay when it is convenient for you. After choosing the type of product you are interested in, you can decide to pay online immediately or later.
3. Excellent Customer Service
Compare Insurance is notable for its superb customer service. The organization treats all your valid claims with priority. Also, important information like quotes and policy documentation is sent to your inbox. You can request assistance from their Help Desk to guide you through your insurance acquisition process.
Basically, these benefits listed above make the company unique.
How can I compare, buy and save on my insurance using Compare Insurance?
With the website, you can compare the prices of various insurance companies. To do this, follow the steps below:
1. Visit their official website, www.compareinsurance.com.ng
2. Next, click on the 'Compare Prices' toolbar
3. Thereafter, fill in the form that requires your details and insurance type. You will receive quotes from various insurers.
4. Lastly, choose the most suitable insurance option for you and make payment for it. After this, you will get payment confirmation and your insurance certificate. Also, read on how to check the status of your car insurance in Nigeria here.
How can I process claims in Compare Insurance?
With Compare Insurance, processing a claim is simple and convenient. To process a claim, follow the steps below:
1. Basically, you file your claim with the company. To file your claim, visit their official website, www.compareinsuance.com.ng
2. Next, click on the 'File a Claim' toolbar
3. Furthermore, input important details of your claim. Basically, this includes the date of loss, certificate number, your name, your email address, your phone number, a description of the incident, and other supporting documents.
4. Lastly, tap the 'save' toolbar and wait for the company to process your claim. They will contact you for further information within a short time.
What are the minimum requirements for taking up an Insurance policy at Compare Insurance?
Since the platform connects you to several insurance companies, the minimum requirement of your insurance will vary. The requirements will depend on the insurance company you choose to take up an insurance policy with. Basically, every insurance company registered on the website fixes its requirements based on their risk assessment of you.
How can I contact Compare Insurance?
You can contact Compare Insurance through the following ways:
Address: 23, Karimu Street, Victoria Island, Lagos, Nigeria.
Website: www.compareinsuranc.com.ng
Email Address: info@compare.ng
Phone Number: +234- 909 000 4273
Does Compare Insurance have an app?
No, they do not have an app yet. However, you can access all their products and services through their website. The website is easy, convenient, and user-centric.
Conclusion
Compare Insurance is a company that offers you various insurance products from different insurance companies so you pick the best for you. The company also simplifies the different insurance policies making it easy for you to understand them. Lastly, the organization is all about allowing you to purchase and manage your policy online, ensuring that prices are transparent, and making the claims administration process easy.
Need a loan? Kindly check out this platform that allows you to compare loans from several lenders in minutes. This would help you make the best decision for you.