As a business or individual, insurance is a must-have for you to protect your assets. Insurance ensures you are well compensated financially for whatever harm that comes to insured products. KBL insurance provides some of the best services in the country, which we would review in this article.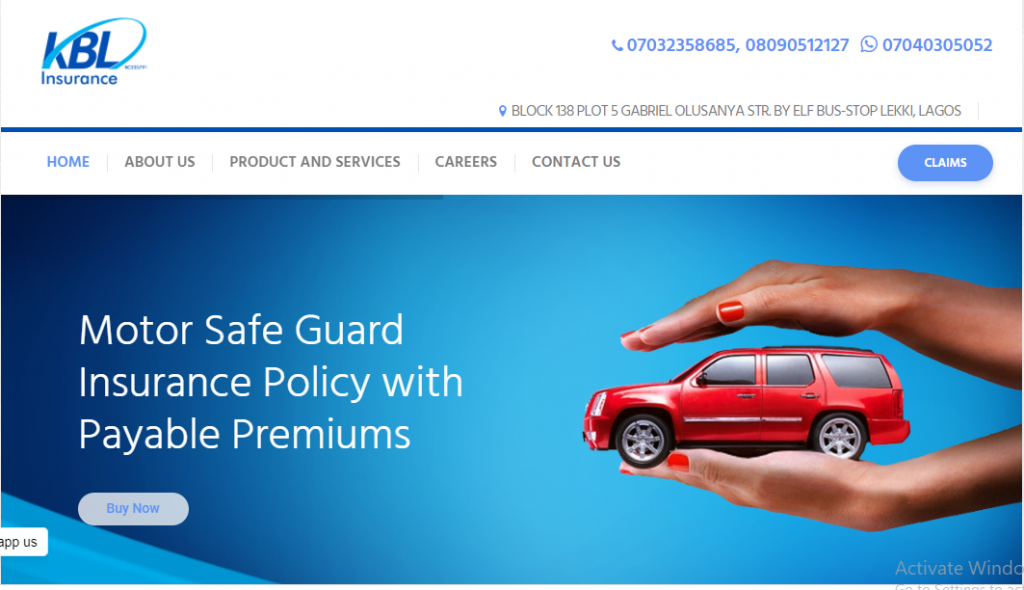 About KBL Insurance
KBL Insurance is among the new generation of insurance companies springing up in Nigeria.
They have so far made a name for themselves through excellent service delivery and innovative products for customers.
KBL insurance currently has an authorized share capital of N4.3billion and a paid-up capital of N3.586billon. It also has reinsurance with local and international reinsurers.
KBL Insurance Management team structure
KBL insurance, managed by a team of vibrant young employees. Each team member goes through a rigorous selection process to ensure that only the best available hands make it. Here is their management team structure:
Managing Director/ CEO.
Executive Director/ Group Head, Marketing, and Business Development.
Financial Institutions/ energy.
AGM/ regional Head, South-South.
Regional Head, North.
Controller/ Head, Bancassurance.
Controller/ Head. New Frontiers.
What products does KBL Insurance Offer?
KBL Insurance offers services under the following categories:
Personal Insurance:
Personal insurance covers assets pertaining to you as an individual. These products were designed to provide cover for individuals in case of emergencies. They include:
Motor Insurance:
you can subscribe to any of the three products under motor insurance. These include comprehensive motor cover, motor safeguard, and third party motor cover. Depending on your subscription, this package provides compensation for your automobile and that of a third party, against damages.
Fire Insurance:
Fire insurance provides cover for your private and business residence against damages caused by fire and other related perils. These include flood, tempest, riot, flood, etc. You can opt for the fire and special perils package, or the record package, or both.
Home Xtra:
This is a personal insurance policy that protects your buildings against theft, fire, and other perils. It provides financial compensation for deaths, medical expenses, legal liabilities, and alternative accommodation.
Homestead Insurance:
This is another policy designed to cover your house and its contents against fire and other specified policies. It also provides financial compensation against death and permanent disability for N1,000,000 when the building is insured above N10,000,000.
Business Insurance:
They designed the policy to cater to your needs as a business owner. It includes providing financial compensation for business mishaps like death, disability, transportation, disaster, and business assets. If you're a business owner, there is surely a package that covers what you do.
Check out the available packages under business insurance below:
Group Personal Accident (GPA).
Plant All Risks.
Contractors All Risks.
Professional Indemnity.
Goods In Transit.
Public Liability Insurance.
Oil and Gas.
Marine Insurance.
Fire and Special Perils Insurance.
Bonds.
You can purchase any of these insurance services online through the "get insurance cover online", or "Buy your E-insurance". Access it through their official website at www.kblinsurance.com.
How do I make a claim from KBL Insurance?
Making a claim with KBL Insurance has been made very simple, and completely online. Simply follow the process below:
Visit their official website at www.kblinsurance.com/claims/
Input the details requested and attach any relevant files necessary for your claim.
Submit, and KBL Insurance would reach out to you in no time.
How do I reach out to KBL Insurance?
You can reach out to KBL Insurance by visiting their office at the address below, or through any of the following means:
Phone No: 07032358658, 08090512127
Whatsapp No: 07040305052
Email: info@kblinsurance.com
Headquarters Address: Block 138 Plot 5 Gabriel Olusanya Street,
Lekki Express Way, Lekki, Lagos.
You can follow this link www.kblinsurance.com/contact-us/ to see the addresses of other branches for those that are not in Lagos.
KBL Insurance Value-added services
With KBL Insurance, you can easily get your personalized insurance quote today. Use this service by following the steps below.
Simply log on to their official website.
Navigate to the "get your personalized quote today" tab.
Input your name, product description, phone number, and email.
A personalized quote based on the service you demand would be sent to your mail.
Conclusion
KBL Insurance provides cover for personal and business assets. Their services even include compensation for death. With KBL Insurance, your assets are safe. They also pride themselves in their easy online claim process, ensuring you go through no stress while making a claim.