It is no news that motor insurance is compulsory for every car owner and user in Nigeria. Hence, the Nigerian government expects every driver to buy motor insurance. However, the more important aspect is buying motor insurance from legit insurers. For your motor insurance to be valid, you have to buy it from a legit insurer. To check if an insurer is legit, you need to do the NIId insurance verification.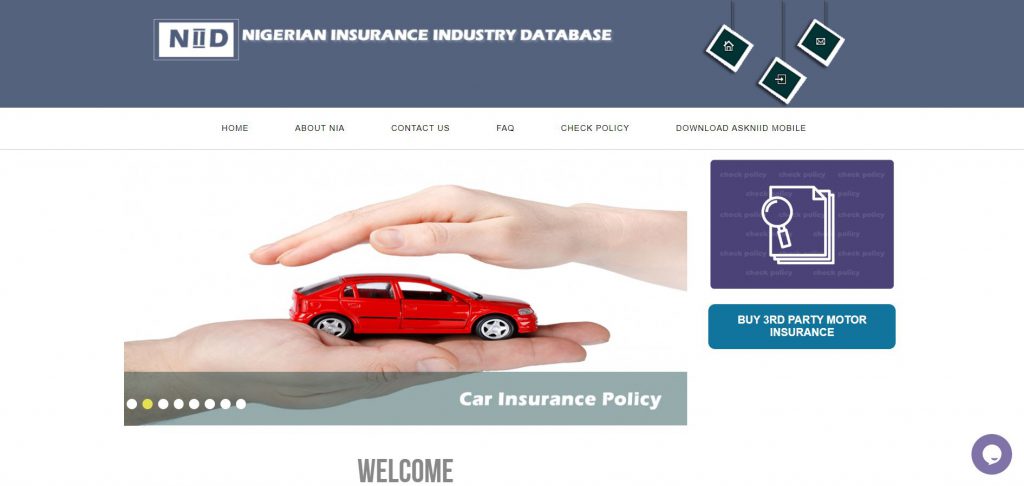 An Overview of the Nigerian Insurance Industry Database (NIID)
The Nigerian Insurance Industry Database (NIID) is a special project launched and held by the Nigerian Insurers Association. Basically, it is an insurance database that keeps records of all the legal vehicles insured by the insurance companies in Nigeria. The NIID's goal is to ensure compliance with maximum standards within the insurance industry and the economy at large. Basically, they protect the interest of all insurers in the country. They allow you to verify the authenticity of any motor insurance you purchase through their website. Also, NIID can not be manipulated since it is an independent institution. So you do not need to be worried about getting scammed.
How can I check my car insurance policy in Nigeria?
Basically, the only way you verify the genuineness of the car insurance you bought is by checking it on NIID. Here's how to verify your insurance:
1. Go to the official NIID website at http://www.askniid.org/VerifyPolicy.aspx
2. Next, choose the vehicle policy you would like to check. The choices there are single or fleet.
3. Thereafter, select how you prefer to carry out the search, either with your policy number or even your car's registration number. Any option you choose to use, you input the number on the search box given and then click on search.
4. The platform will display the status of your vehicle's insurance. Usually, it is shown with red ink beneath the search button.
Basically, the platform shows details like your car brand, colour, model, expiration date, as well as the insurer's name.
Why is it important for my car insurance to be on the NIID platform?
Basically, when there is a car accident, the police first refer to the NIID list before making their decision. Any vehicle that is not found on the list, will be impounded and the driver will be penalized. Also, if your vehicle is not registered in NIID, it indicates your car insurance license is illegal, which can get you into trouble.
How can I verify if an insurance company is legit?
Make sure you verify the legitimacy of the company before purchasing any insurance service from them. Basically, you can do this with NAICOM. The National Insurance Commission (NAICOM) has a comprehensive list of all licensed insurance companies that exist in Nigeria. Just check their website for confirmation. To check their website, follow the steps below:
1. Visit their website, www.naicom.gov.ng
2. Next, click on insurance industry
3. Lastly, click on the category of the insurance company you want to check for to get a full list of the legit ones in Nigeria.
How can I contact NIID?
You can contact NIId via the following ways:
Address: 264 Ikorodu Road, Savoil Bus Stop, Ilupeju, Lagos, Nigeria. P.O. Box 9551, Lagos, Nigeria.
Phone Numbers:+234-817-078-4444 or +234-802-990-8531
Hotlines: +234-803-040-0804 or +234-701-178-4884
Email: info@nigeriainsurers.org
Website: www.askniid.org
Conclusion
The Nigerian Insurance Industry Database (NIID) safeguards people from the activities of illegal insurance. Hence, it is compulsory for every car owner and user to do the NIId insurance verification to avoid fraudsters. If you want to verify the validity of your motor insurance, just go to their website and search for it with your car registration number. The process is easy, hassle-free, and free.
You can obtain a comprehensive loan, tailored to your specific needs by using this platform. Basically, it allows you to compare loans from different lenders across Africa, ensuring the best option doesn't slip through.