Are you interested in learning about the causes of road accidents in Nigeria? Read on.
Accidents are very common in Nigeria. The main cause of this is the lack of safety and precaution on the road, as well as a lot of reckless driving by drivers. This leads to many accidents every year, especially when it comes to car accidents.
Moreover, if properly looked into, accidents can never be a part of life. It is impossible not to get injured somehow. Accidents can also be because of natural factors like lightning, but human factors can also cause them such as driving under the influence of drugs or alcohol.
There are several reasons ‌people get into road accidents in Nigeria; we will explore them together in this article.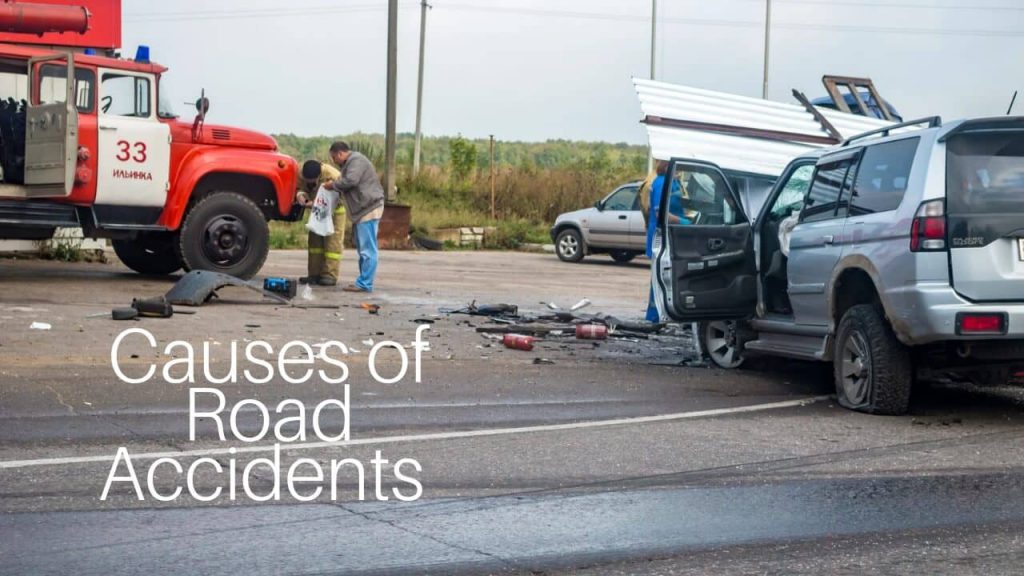 What is a Road Accident?
A road accident is a sudden and unexpected event, which usually happens when a vehicle collides with another object or person.
It is also any collision where a motor vehicle collides with a pedestrian, cyclist, or another moving object.
Other road users, environmental conditions, and improper use of vehicles cause road Accidents. It is also caused by weather, highways, human error, or vehicle defects. Roads are meant for mere transportation of people and loads, not recreation.
About Road Accidents in Nigeria and Their Causes
Road accidents are a common occurrence on Nigerian roads. These road accidents lead to the deaths and injuries of hundreds of Nigerians every year. Road Accidents are mortal, and they can cause severe injuries or even death to the occupants of the cars involved in the accident. 
Most motor accidents include shifting from one lane to another by other motorists due to poor visibility and overzealous driving.
The most common causes of road accidents in Nigeria were as follows: reckless driving, lack of awareness about traffic rules and regulations, possible intoxication, inexperience in driving, and other factors.
14 Causes of Road Accidents in Nigeria
What are the causes of accidents in Nigeria? The causes of accidents in Nigeria are many, and accidents happen for many reasons. Here are some of the most common causes of Nigerian accidents:
Reckless Driving
Over speeding
Improper overtaking
Drunken driving
Drowsy driving
Distracted driving
Driving under the influence of drugs
Faulty vehicle parts
Poor lightening
Weather conditions
Road conditions
Vehicle condition
Sudden braking 
Poor usage of vehicle
1. Reckless Driving
There are many causes of road accidents in Nigeria. The main reason is the lack of proper safety measures. In addition, some people drive recklessly, and others use their phones while driving.
In other words, accidents can occur anytime and anywhere. The causes of accidents differ from person to person. Still, most people are seen indulging in reckless driving, thereby endangering their lives and the lives of others on the road.
2. Over speeding
Road accidents in Nigeria are not just accidents that happen during a person's lifetime. It can be caused by overspeeding by the driver. Overspeeding and not putting in all, you learned in driving school can cause an immediate accident and affect other road users. 
3. Improper overtaking
Another cause of road accidents in Nigeria is improper overtaking. In some regions, it is the use of heavy vehicles that cause most road accidents. In other cases, it is a lack of communication between vehicles on the road that leads to accidents.
4. Drunken driving
Some drivers mount the stirring under the influence of alcohol or heavy drug intake, which can lead to road accidents.
While others take alcohol while driving on the road. This is bad because it can practically affect the brain and conscious mind of the person driving.
5. Drowsy Driving
Road accidents in Nigeria are on the rise. One other major or possible cause is drowsy driving.
This can be attributed to poor, ill health conditions, intake of drowsy drugs, intake of alcohol, and other lack of care by drivers, among others.
6. Distracted Driving
In some instances, drivers may be distracted by their cell phones or handheld devices while driving, which can also lead to an accident.
Some can be too busy looking at something else or even taking calls while driving on the road, and this can make them run into a car because their attention is now divided.
7. Driving under the influence of Alcohol
The causes of accidents in Nigeria are many and varied. One of the most common causes is driving under the influence of alcohol or drugs, which can cause a driver to lose control of their vehicle and lead to an accident.
8. Faulty Vehicle parts
In addition, accidents can be caused by faulty vehicle equipment, poor maintenance or lack thereof, or even poor road conditions.
9. Poor lighting conditions
Poor lighting on roads or at intersections may contribute to an accident because it makes it difficult for drivers to see other vehicles and pedestrians clearly.
10. Poor Weather Conditions
In other parts of Nigeria, it is the poor weather conditions at a particular point in time. Some roads are not built to withstand heavy rains or strong winds, which can cause cars to skid out of control and crash into each other.
So, drive slowly and carefully when the weather isn't favorable. Also, get your Mobile insurance and travel insurance.
11. Dangerous road conditions
Roads in Nigeria are sometimes poorly maintained, making driving unsafe and hazardous.
It is the poor condition of roads and their uneven surfaces that lead to accidents.
12. Vehicle Conditions
Most drivers in Nigeria manage their cars, thereby putting passengers and other road users at risk of account.
Some of them would notice unfamiliar noise from the car's engine and other faults but wouldn't pay attention to it but would prefer to manage the conditions. This is bad and can lead to fatal road accidents.
13. Sudden braking
Most drivers in Nigeria engage in fast and speedy driving and can abruptly match the brake when they see any force agent on the road.
To lower the number of casualties, the Federal government should enforce seat belt laws by all drivers involved in traffic without fail and ensure safety measures are enforced by law enforcement agencies when they detect any dangerous driver or one involved in road accidents.
14. Improper use of vehicles
A large percentage of accidents in Nigeria are caused by improper use or operation of vehicles, such as failing to wear seat belts or faulty brakes.
9 Other Causes of Road Accidents in Nigeria
Road accidents have become a major problem in Nigeria. Nigeria ranks first among the countries with the highest workplace fatalities and has the second highest rate of death from traffic accidents. According to WHO data, there were over 6 million road deaths worldwide in 2017 (WHO).
In Nigeria, there are many causes of road accidents in Nigeria including:
Poor road design
Lack of traffic regulation and enforcement
Inadequate training for road users
Lack of driver education
Lack of monitoring systems
Violence and Intimidation by police and other force authorities
Impaired Vision
Inadequate Clothing and Equipment kept on the road as a sign
Not looking both ways before crossing the road
Poor maintenance and no construction standards on roads in Nigeria exacerbate these causes.
Types of Accidents on the Road
There are various types of accidents that can occur on the road. Some common types include:
Head-on collision: This type of accident happens when two vehicles traveling in opposite directions collide with each other.
Poor road condition accident: Accidents: This type of accident occurs due to poor road conditions, like potholes, lack of lights at night, etc.
Bad weather road accident: This type of road accident occurs due to bad weather conditions on the road like a heavy downpour causing flooding and road breakages.
Rear-end collision: Rear-end collisions occur when one vehicle strikes the vehicle in front of it from behind.
Negligence Accident: This accident occurs because of negligence, such as failing to obey traffic rules, not maintaining a safe distance between vehicles or pedestrians, etc.
Side collision: Also known as a T-bone or broadside collision, this occurs when the front of one vehicle hits the side of another vehicle.
Vehicle Roll-over: A roll-over collision involves a vehicle tipping over onto its side or roof. This can happen due to swerving, high-speed maneuvering, or hitting an object on the road.
Intersection accidents: Accidents can occur at intersections when vehicles fail to yield the right of way, resulting in crashes.
Distracted driving accidents: Accidents caused by drivers being distracted by activities like using a mobile phone, eating, or adjusting the radio are common.
Drunk driving/ Driving under the influence accidents: Accidents caused by drivers operating a vehicle under the influence of alcohol or drugs.
Hit and run accidents: These occur when a driver involved in an accident leaves the scene without stopping to provide information or assistance.
Single-vehicle accidents: Accidents in which only one vehicle is involved, such as hitting a fixed object or losing control and colliding with a barrier.
Chain reaction or multi-vehicle accidents: These accidents involve three or more vehicles and are typically caused by a combination of factors such as sudden stops, limited visibility, or driver error.
It's important to note that these are just a few examples, and road accidents can occur in various other ways. Each accident is unique, and the specific circumstances can impact the severity of the incident and the injuries sustained.
4 Bad Outcomes of Road Accidents in Nigeria
Accidents are a serious problem in Nigeria. It affects the lives of those who experience it and their families. Accidents often cause:
Disruption
Violence
Commotion and fights
Instant death
Economic loss because of injuries
Property damage
Medical bills and
Rehabilitation costs.
Road accidents are a serious problem in Nigeria. At least every day, lives are lost, and others are damaged because of road accidents in the country.
Let's be cautious of its bad ‌result and avoid anything that could cause any form of accident. Also, having car insurance can save the day for you.
How to Avoid Road Accidents in Nigeria
Several factors can cause accidents in Nigeria, including drunk driving and speeding, the use of improper routes, poor road conditions, and poor visibility from the weather‌. The following; can avoid these
Traffic regulations closely
Following those rules about speed limits
Driving carefully
Avoid drinking any form of alcohol before or while driving
Wearing seat belts
Checking all spare parts of your vehicle by making sure it's all in good working conditions
Frequent sensitization of new drivers and giving new driver's education courses and
Looking both ways before crossing the road.
Conclusion
Accidents are a part of life. But we can prevent them. It is best to know the causes of road accidents in Nigeria so that you can avoid them in the future.
The causes of road traffic accidents in Nigeria are both human and non-human. The human factor is because of the accumulation of several factors mentioned in this article.
But it is also important to note that there are several types of accidents and causes of road accidents in Nigeria that look small and neglected by people. Some of them are:
Speeding during heavy rain
Unsafe driver behavior
Inadequate vehicle maintenance
Unsafe vehicles and their drivers
Note all these to avoid any accident associated with these factors in the future.