Although relatively new in the market, Avon Healthcare Limited has provided quality healthcare services across Nigeria since its inception back in 2012.
Avon HMO provides different health care services ranging from single individuals to large companies, associations, and even international coverage.
Avon HMO's Strength
Their HMO services is a subsidiary of Heirs Holding Group, which has a goal to empower individuals across Nigeria to live healthier through accessible health care.
For example, Avon HMO also offers other health-related services which we would discuss in this article.
We would also inform you about everything you should know about Avon HMO.

How does Avon HMO work?
Avon HMO offers some of the best health services to its customers. Asides basic health insurance, they also offer services like;
Onsite health risk assessment.
Occupational health management.
Employee well-being services.
To access Avon HMO health services, you can:
Log on to their official website to apply.
Call their official line (available 24/7) on – 0700-277-9800 or 01-277-9800.
Visit any of their official outlets.
Avon HMO – Available plans and their benefits
The health services and benefits you enjoy depends on the plan you subscribe to
1) Individuals
Avon HMO design their individual plans to cover just about any area that you as a person might need. They offer the following benefits under this plan:
General consultation.
Specialist consultation.
Lab investigations.
Prescribed drugs.
Physiotherapy.
Travel immunization and many more.
Visit their official website to browse other benefits available under the individual plan. This service is also further classified into the life starter, life plus, and premium life.
2) Couples
Couples plan is designed optimally for two and helps you prepare for a fruitful and healthy family.
Asides the basic health benefits available for the individual plan, couples package also contains:
Pre-marital health checkup.
Antenatal care and delivery.
Minor surgeries.
Family planning and services.
Dental care and many more.
Couple's health care services offered by Avon HMO are only available in a single plan.
3) Family
The family plan caters to the health needs of a family unit of six (you, your partner, and 4 children all under the age of 18).
You can purchase family HMO insurance with either a life plus plan, premium life, or the boss package.
It includes the basic benefits available in the individual plan, with extras like:
Chronic conditions management.
Plain and contrast X-Rays.
Ultrasound scans.
Minor surgeries.
Mental health services.
4) SME, cooperative and small groups
With this package, you can run your business without worrying about the health risks facing your workers. Avon HMO have you covered on the wellbeing of your team and offers easy access and quality health care. Benefits of this plan include:
Routine laboratory services.
General and specialist consultation.
Prescription drugs.
Physiotherapy.
Hospital admission and feeding.
Emergency care.
Minor and intermediate surgeries.
Simple optical care.
The plan is available in the following categories; life starter, couples, and life plus.
5) Companies, associations, and large groups
They design the large group plan for companies with 30 people or more. This package offers better benefits and convenient access to health care services for your staff. Some of these benefits include:
Hospital admission and feeding.
General and specialist consultation.
Diagnostic tests and X-rays.
Prescription drugs, physiotherapy.
Hospital admission and feeding.
Minor and intermediate surgeries.
Simple optical care.
The plan is available on; plus premium and prestige.
6) International coverage
Avon HMO international coverage offers a series of options that have you covered both locally and internationally.
As the name implies, this plan has worldwide coverage, and provides you with the health service you need, exactly when you need it.
This is possible through a liaison of Avon HMO with other foreign partners.
Should you subscribe to this plan, they would assign you a dedicated account manager in your location, who would act as a liaison between you and Avon HMO healthcare partners/ providers where you are.
Avon Telemedicine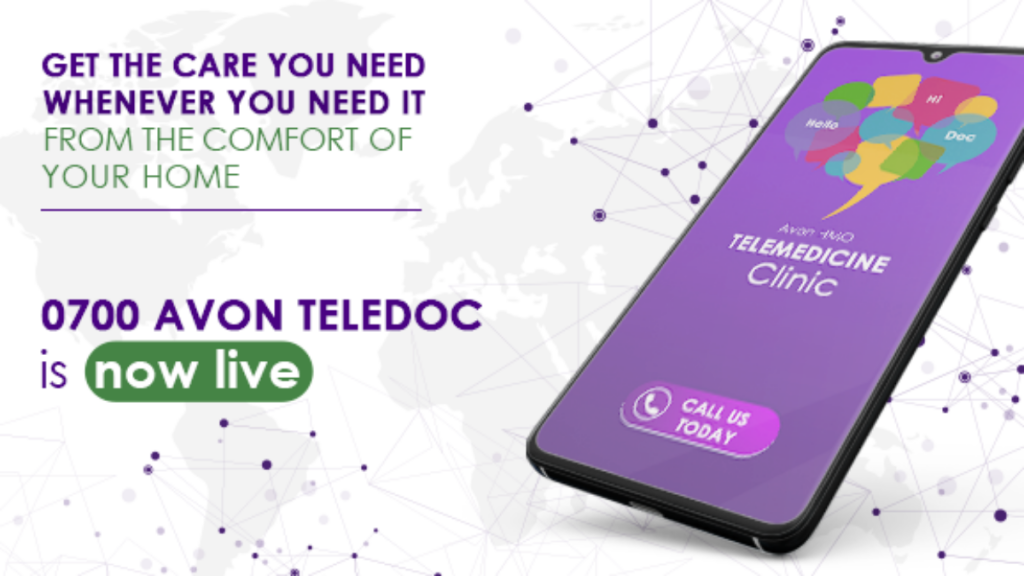 Just by dialling 0700-AVON-TELEDOC you can consult with a doctor via your telephone. Leveraging on Avon HMO's robust network of diagnostics centres and pharmacies across Nigeria.
You can have access to healthcare consultations that you can use within your immediate vicinity when prescribed after consultation.
There are arrangements for those who require health services by receiving medications at the comfort of their homes
Conclusion
Avon HMO has you covered in everything regarding health, with cheap and affordable prices that are tailored to favor your pocket.
In this article, we have shown how subscribing to their services today helps you afford unforeseen medical expenses.
With Avon HMO having your back, you can be free to focus on other indulging matters as a business person and individual, or growing your family as a couple.